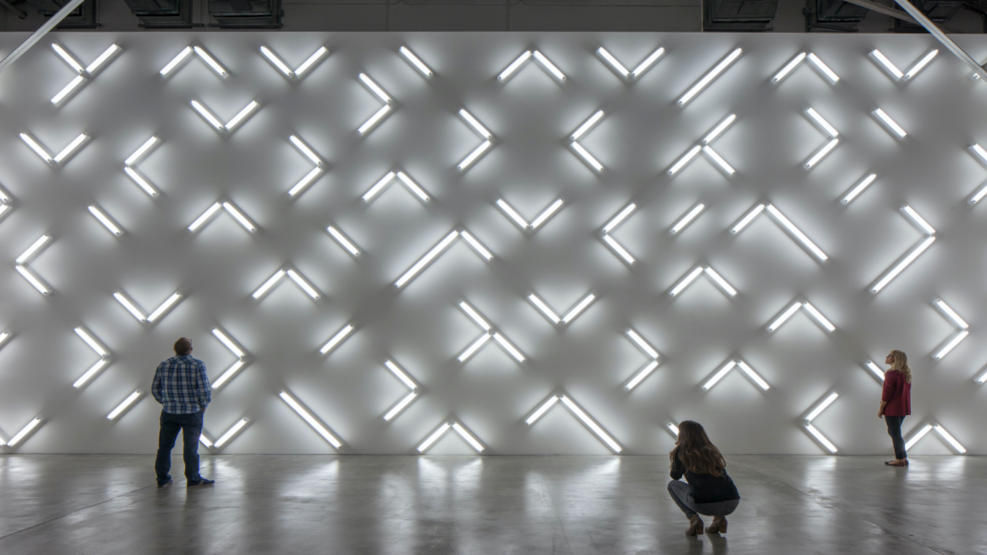 Copenhagen Contemporary
International contemporary art center showing installation art from world stars and emerging talent.
Installations, performance art and monumental video works find a home at Copenhagen Contemporary (CC), Copenhagen's center for contemporary art. It's in the city's hip cultural district, Refshaleøen. 
An international art center showing installation art created by world stars and new emerging talents, CC occupies the magnificent former B&W welding hall offering a total of 7,000 m2 of beautiful industrial halls with plenty of space to show the technical and large formats in which many contemporary artists work. Art can often be entered and sensed with the whole body. 
Contemporary art in Scandinavia
You can attend art talks, art walks, concerts, creative workshops for children, visit CC's own shop offering Scandinavian design, and experience the unique and historical city district of Refshaleøen. 
CC is one of Scandinavia's largest exhibition venues for contemporary art and a lively meeting place for a wide audience. CC creates collaborative partnerships and organizes events with a number of different partners across cultural genres locally and internationally. 
Refshaleøen, Copenhagen's newest cultural district
Situated centrally in B&W's iconic welding hall, CC is an international power hub in Copenhagen's new cultural district. The special quality of this area continues to be defined by its industrial history: the area is raw and green with commanding views across Copenhagen Harbour.
The district is a mix of first-class gourmet restaurants and small entrepreneurial initiatives; you can go for a dip in the sea, for a sauna, enjoy a glass of wine, and eat grilled food, buy quality bread and visit Copenhagen's most popular food market with stalls from across the world and lounge areas by the water's edge. Not forgetting the climbing, skating, and skiing activities, the flea market, and the theatre and music festivals, which are just some of the many activities this area has to offer. 
Exhibitions at Copenhagen Contemporary
Light & Space 
03.12.2021-04.09.2022 
For the first time ever in Europe, Copenhagen Contemporary is bringing together a rich array of art-world luminaries in an expansive 5,000 m2 exhibition on the American art movement known as Light and Space.  
Light & Space is a chance to experience art by James Turrell, Doug Wheeler, Helen Pashgian, Robert Irwin, Larry Bell, Bruce Nauman, Mary Corse and many others - alongside works by contemporary artists inspired by the pioneering art movement, among them Anish Kapoor, Olafur Eliasson, and Jeppe Hein.  
The singular exhibition, CC's biggest to date, sprawls across all five exhibition halls and the foyer, presenting a world of light, color, and monumental installations during the darkest months of the year.