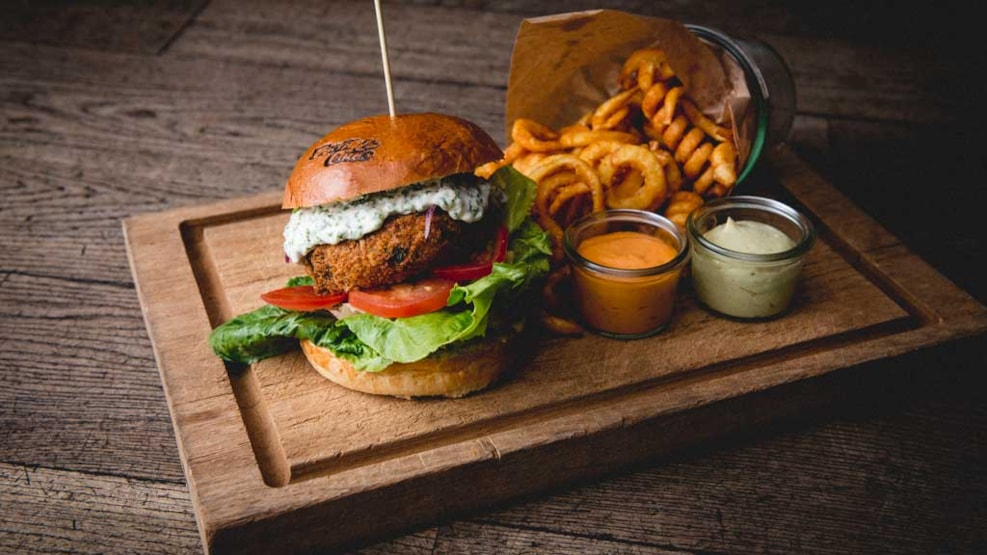 Cocks & Cows Gammel Strand
The Mothership of Cocks & Cows' award-winning burgers is located at Gammel Strand 34 in the centre of Copenhagen.
If you LOVE burgers - then Cocks & Cows is the place for you! With everything from the traditional Cheese'n'Smoke to the almighty Governator, Cocks & Cows has a burger for everyone. They've even got vegetarian and vegan burger alternatives as well as salads and steaks. Cocks & Cows strive to be good company, which is why their beef and chicken is free-range and most of the greens are organic.
When you enter the restaurant at Gl. Strand, you'll get the feeling of visiting a true American diner with a Scandinavian twist. You can relax in the restaurant's covered and heated courtyard, which welcomes guests all four seasons of the year. In need of a private party room? Worry not! The Barn is the perfect place for social gatherings.
Besides Cocks & Cows' famous burgers, there are lots of side orders and appetizers, which will make your saliva go ballistic – put your teeth in everything from BBQ wings, fries, onion rings to chilli cheese balls, and make sure to get one of their carefully handcrafted cocktails to accompany your food!
You can also find Cock's & Cows in other Copenhagen locations: SP34, Ravnsborggade, Prags Blvd., The Meatpacking District and Tivoli Food Hall.