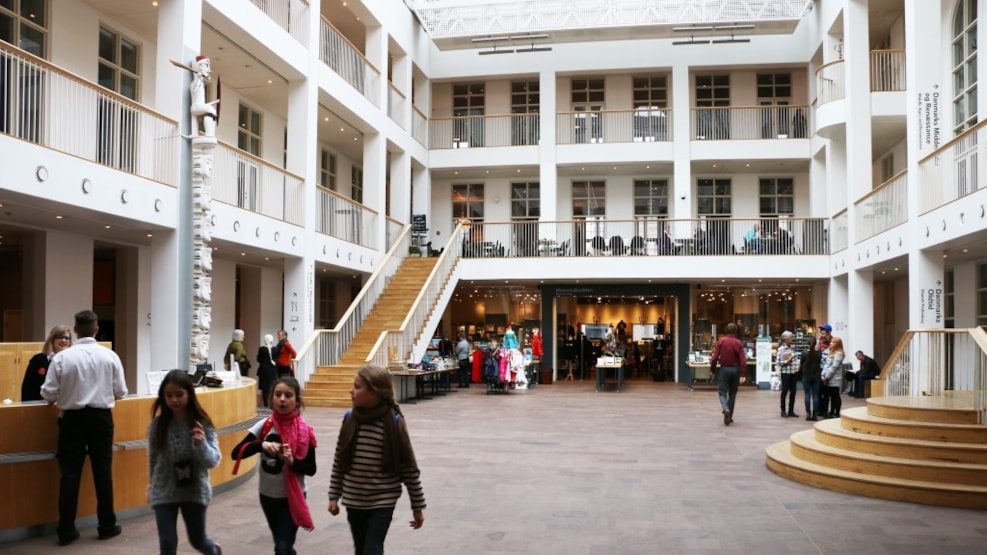 Children's Museum at The National Museum
Children's Museum in Copenhagen has special offerings for children ages 4 to 10. The museum is ideal for family visits as well as institutions.

At the Children's Museum start your journey in time by entering a dark backyard from the 1920s. Imagine that you're in the loo in the cold back yard and through the holes in the fence you can see how children then were walking on stilts or playing hopscotch.

Behind the bins, you may find a rattle that tells the story about the binmen. They used to walk to the streets making a loud noise with their rattles so that people would know when to get the bin out.

... to Bollywood films in Pakistan

Hadda from Nørrebro in Copenhagen has travelled to Pakistan and here the marketplace has got a new newsstand where you can get Bollywood films, mobile equipment, magazines and newspapers.

If you are crazy about the Vikings, take a trip to the Viking Age. Sail on a raid to foreign countries or visit the new Viking house.

See the beautiful dress that the Viking mistress may have worn and her elaborate jewellery. Visit the knights' fortress from the Middle Ages and cook your dinner in the kitchen, or make your own exhibition in the King's Cabinet of Curiosities - a marvellous mirror room.

An abundance of new possibilities

Everywhere there are new details. Some you'll find immediately while you'll have to be more careful to find others. Visit the museum and start the search for many new adventures. Experience how people ate, worked, played, and dressed hundreds of years ago.

NB! Children will have to visit the museum together with adults.