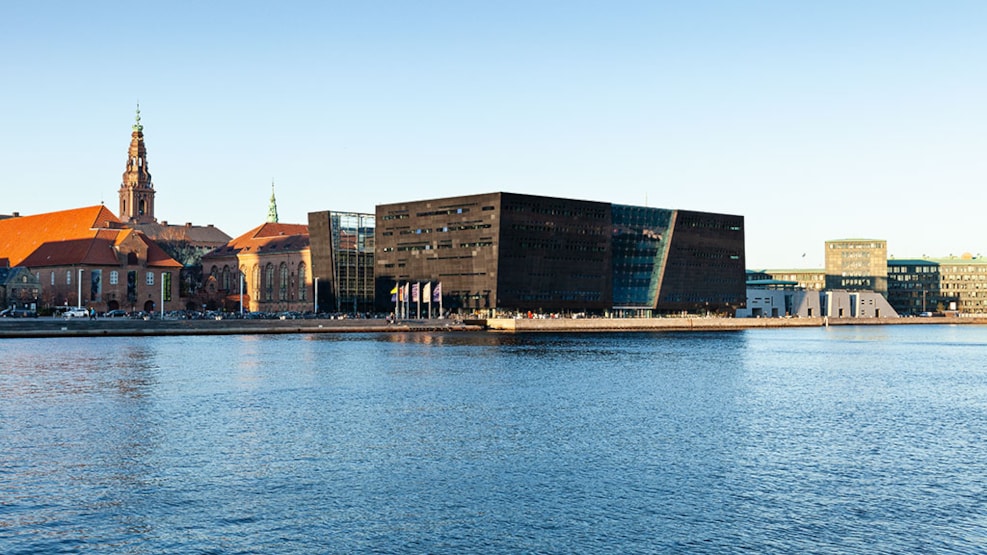 The Black Diamond - Royal Danish Library
The stunning modern addition and its historic older counterpart hold books, exhibitions, a cafe and much more.
The Black Diamond in Copenhagen is one of the harbourfront's key modern architecture attractions, and is an extension to the Royal Library, with a bookshop, restaurant, café and concert hall inside it.
Designed by architects Schmidt Hammer Lassen, the building was finished in 1999 and is nicknamed 'the Black Diamond' for its shiny irregular facets on the outside that mirror the sea and sky. Inside the building, ancient and modern come together in a unique, light-filled way. A large incision cleaves the building into two formations and gives light to the atrium inside. The atrium connects the city with the sea outside as well as the old and new library buildings, and as you enter and ascend to the reading rooms on the first floor, you can see the harbour clearly through great glass windows. The glass facade is held by iron girders weighing approximately one metric tonne per metre.

It's an inspiring place to visit - along with its library, the building holds regular exhibitions, and has an impressive 200 square-metre Per Kirkeby painting adorning its ceiling of the Black Diamond. There is also a small bookshop, a café, a restaurant and the Dronningesalen concert and theatre hall which seats 600, along with The National Museum of Photography.
Søren Kierkegaard and The National Museum of Photography
In the building you can also see philosopher Søren Kierkegaard's manuscripts which are kept safely in Royal Library's Søren Kierkegaard Archive. No one outside the library has access to the impressive, large manuscript collection, and only a very few inside.
The Black Diamond also includes The National Museum of Photography. Since 1839, photographs have been included in the Royal Library's collection. Today, the National Museum of Photography contains about 50,000 works, divided into Danish photography, foreign photography and several special collections.