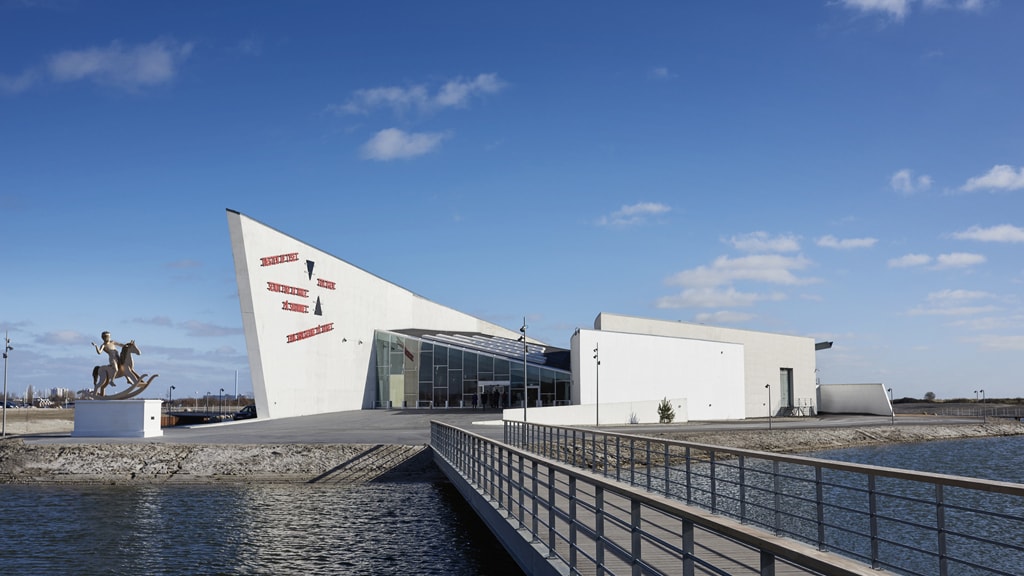 ARKEN Museum of Modern Art
ARKEN Museum of Modern Art in Ishøj, south of Copenhagen, boasts exhibitions with the greatest Modernist artists alongside exhibitions of contemporary art - from new, young talent to established artists.
ARKEN is a great and monumental building situated in the artificial landscape, Køge Bay Beach, a short drive or train ride south of Copenhagen. The museum has one of Scandinavia's finest collections of contemporary art, and the museum's maritime architecture with the pointed stern, which majestically protrudes into the terrain, has won recognition both at home and abroad since its inauguration in 1996.
ARKEN's collection contains more than 400 works - Danish, Nordic and international contemporary art primarily from the period after 1990. The museum houses, among other things one of Europe's most important collections of the British artist Damian Hirst.
The museum also has a permanent exhibition of the work Læsø by Asger Jorn, nine works by the German artist Anselm Reyle, recognised as one of contemporary art's most important innovators of abstract art, as well as a magnificent masterpiece by Chinese artist Ai Weiwei.
Distinctive architecture
The museum building is an attraction in itself. Designed by architect Søren Robert Lund, it portrays a stranded ship a few metres from the beach. The museum is located in scenic surroundings between Ishøj Harbour and the long sandy beach, so a visit to the museum is not complete without a walk.
The museum café hangs like a lifeboat on the side of the building and through the large panoramic windows overlooks Køge Bay.
The museum shop is the area's leading design shop with an inspiring mix of Nordic design, art books and gift items.