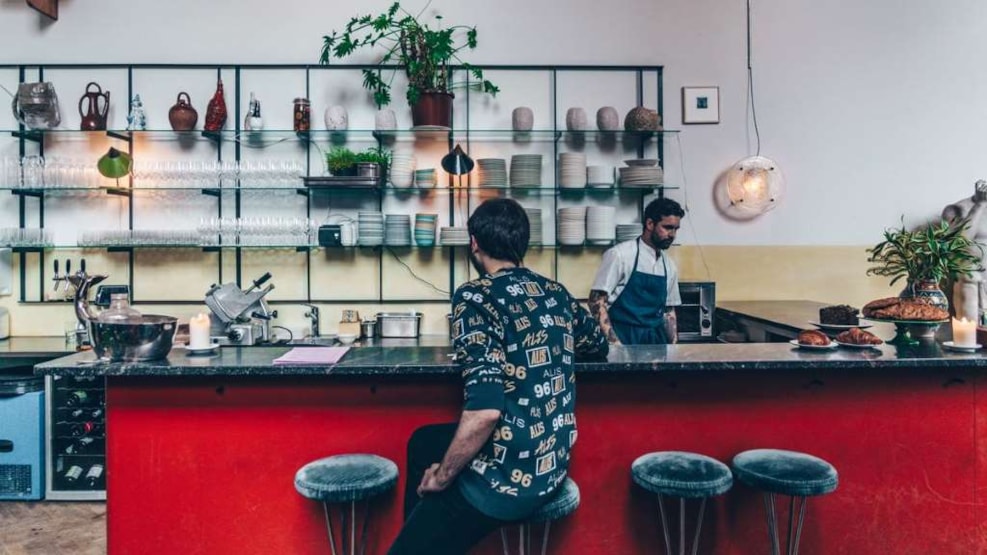 Apollo Bar
Facing the courtyard at Charlottenborg Art Gallery and as a neighbour to colourful Nyhavn, you will find the simple restaurant Apollo Bar.
Apollo Bar wants to appeal to all types with a concept that changes through the week. It is mostly a bar with wine, beer, snacks and small dishes during the week and from Thursday to Saturday, it is more a restaurant. It is a nice place to go when visiting Nyhavn or the art gallery Charlottenborg, and when the weather is nice, you can eat in the courtyard with sunbeams on your face.
According to chef Frederik Bille Brahe, Apollo Bar is all about simple ingredients and giving the guests a good experience with a twist of something, they might not have expected. For instance, you can order familiar breakfast items like perfect layered croissants, soft boiled eggs and sourdough bread with cheese, and if you feel more experimental, you can go for the yoghurt with pumpkin and granola or the mouth-watering ricotta and blueberry toast. 
The chef behind Apollo has also opened Apollo Kantine (canteen) right next to the bar. Here students can eat a cheap meal, but everyone else is also welcome and can choose between either the vegetarian or the meat/fish dish of the day with seasonal and local ingredients. The canteen is open from Monday to Friday at lunchtime.