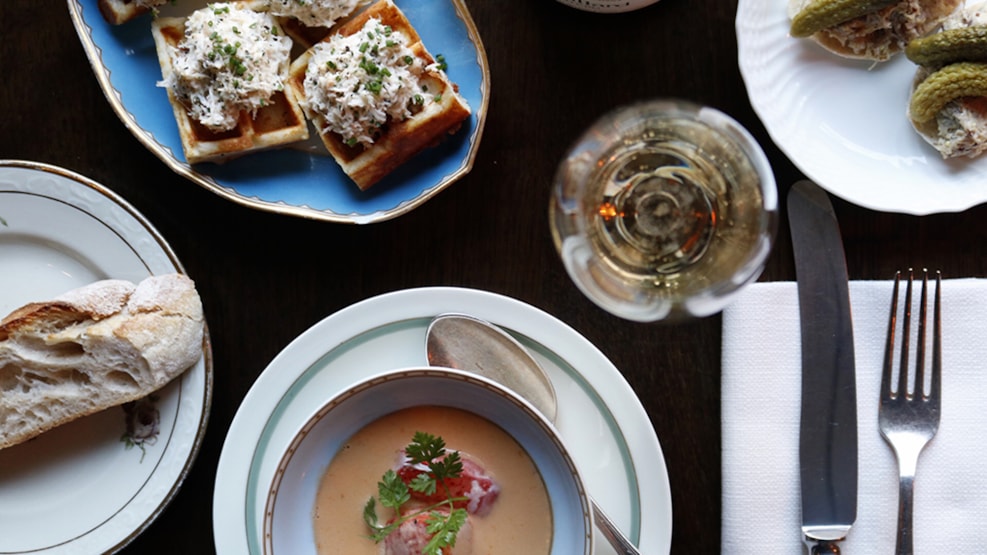 Anarki
Bib Gourmand restaurant Anarki is a small bistro-style restaurant in Frederiksberg and French restaurant Mêlée's bold little sister.
Where Mêlée is full on Francophile, Anarki goes its very own ways. As the name implies, anarchy rules in the kitchen. There are no dogmas to follow, and head chef Rune Sauer Sonnichsen has free rein to draw inspiration from all corners of the world.
You can stick to classic courses such as Vitello Tonnato or try delicious offal dishes with veal heart or sweetbread. If you feel like fully indulging in the bistro spirit, you can get the family style dinner to share at the table. No matter what, you'll be served honest food with great flavour.
Wine lovers at heart
The down to earth, heart-warming meals may have secured Anarki its Bib Gourmand award, but the wine selection is a whole other story.
Award-winning sommelier Christian Thorsholt Jacobsen is also partner at the restaurant, and has put together Anarki's wide-ranging menu of quality wines. With a list that's several pages long, there's something for everyone, including the enthusiastic wine nerds.
Anarki is proof that gourmet food doesn't have to cost the equivalent of a weekend trip to Paris. The food is brilliantly simple but tasty, and the service is relaxed and welcoming. With the cobber coloured bar, green pool table lamps and old maps on the wall, the restaurant gets a cosy, retro feel about it that's perfect for dining and sipping wine all night.