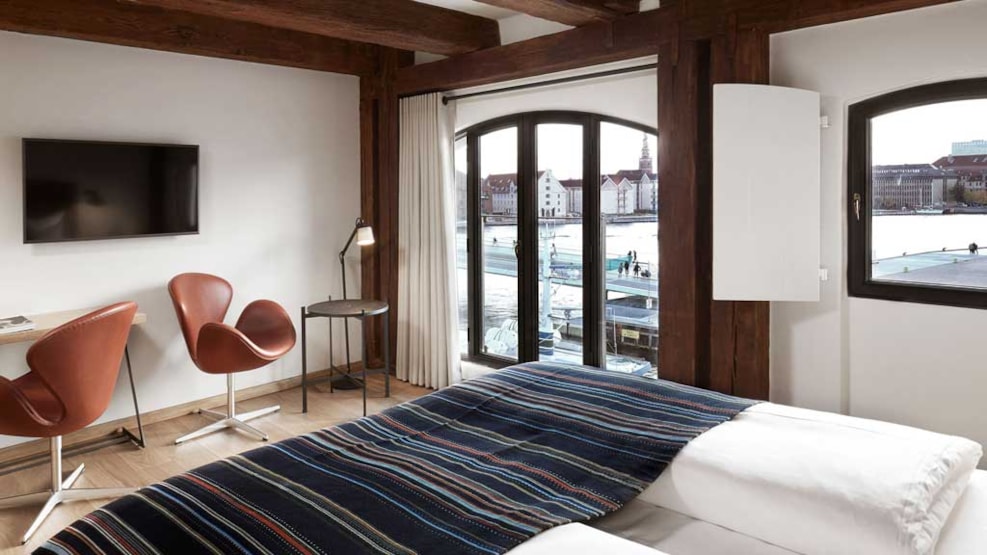 71 Nyhavn Hotel
At the last frontier of the iconic, colourful buildings by Nyhavn Canal, the exclusive 71 Nyhavn Hotel resides in two newly renovated warehouse buildings from the early 1800s.

For 200 years, 71 Nyhavn Hotel has been standing between the foamy sprays from the harbour and life along the Nyhavn Canal. From the southern side of the building, unparalleled views to the many beautiful museum ships and the clucking water await you, offering one of the best views the city has to offer.
The hotel encompasses two beautiful warehouses with a total of 130 rooms. Both warehouses have undergone a sweeping transformation through extensive, but gentle, refurbishment with focus on welcoming interiors, a timeless, Scandinavian look and a humble respect for the warehouses' souls and charm characterising the hotel.
The newly renovated warehouses, standing in a united luxurious style, are joint on the ground floor by the lobby, also providing access to the Southeast Asian critically-acclaimed gourmet restaurant SEA by Kiin Kiin; the 'little brother' to the Michelin restaurant Kiin Kiin in Nørrebro. With respect for the old warehouse, the restaurant is decorated with a clear reference to Hong Kong in the year of 1930.
Just a few minutes' walk from the hotel, you will find Amalienborg Palace, the beautiful public square Kongens Nytorv and the famous shopping street Strøget – although, you do not have to venture very far to experience the unique atmosphere for which Nyhavn is so renowned