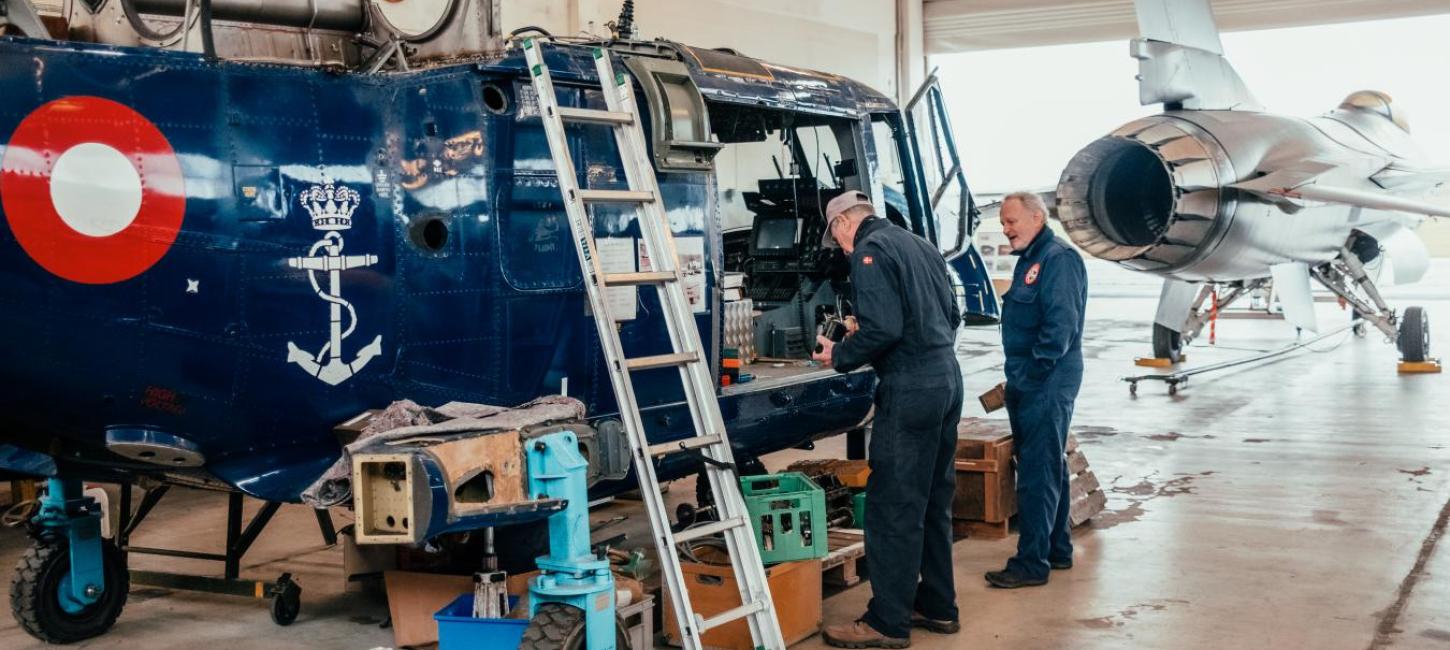 Exploring a royal military airfield turned recreational hotspot
Photo:
Thomas Høyrup Christensen
If you're feeling particularly adventurous, Flyvestation Værløse ('Airfield Værløse') is an old Royal Danish Air Force base north of Copenhagen, which has gradually transformed into a creative and alternative hotspot for locals and visitors alike.
And if you know where to look, the legacy, preservation, and restoration of the old military airplanes – and their dramatic stories – are carefully stewarded by a group of passionate military retirees in one of the original hangars.
Though you might spot its more recent occupants first - the kite-skaters, hikers, dog-walkers and mountain-bikers - it won't be long before you realize what Airfield Værløse used to be:
Carved into the middle of a massive green grass field is the original runway, three kilometers long and 50 meters wide. A testament to the area's past role as critical military infrastructure, the runway is now a long asphalt playground for all kinds of activities, hidden away roughly 30 minutes north of Copenhagen by car, or an hour by public transport.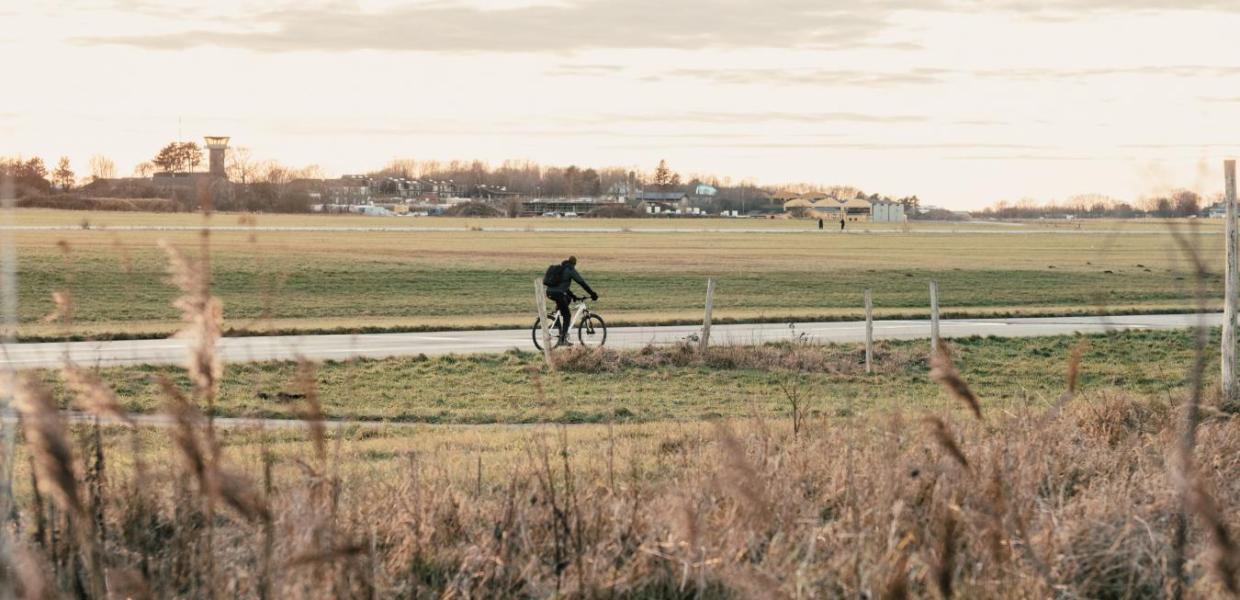 Photo:Thomas Høyrup Christensen
On weekends, the place is frequented by sports bikers, horseback riders, roller skaters, ski-trainers, runners, and hikers who bring the airfield, roughly the size of a small village, to life. So much in fact, that one of the old jet-hangars on the north-side of the runway has turned into a hip and "rough" café, serving barista coffee, snacks, and ice cream for the urban adventurers.
Passion and preservation
In one of the original helicopter hangars on the airfield's south side, a group of passionate military airplane afficionados – both ex- military and civilians – meet daily to restore the historical airplanes and preserve the legacy surrounding them.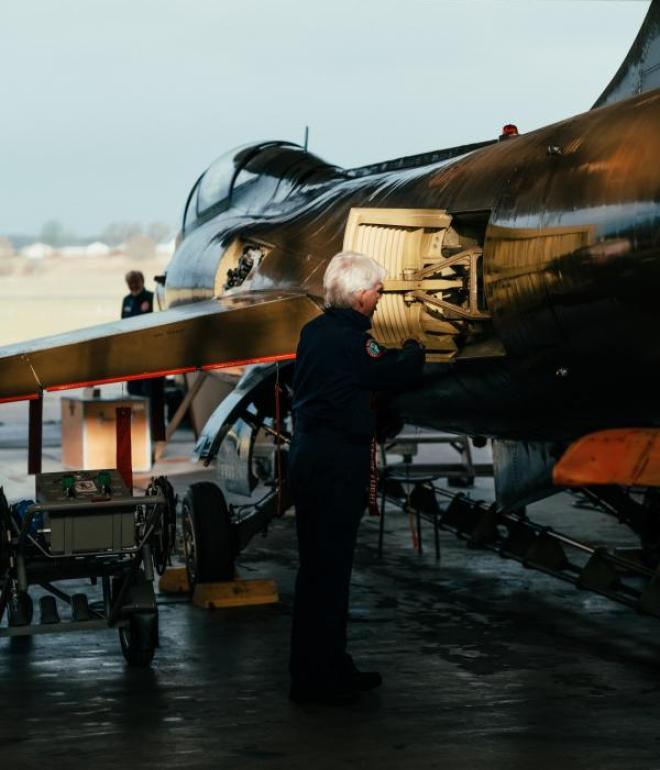 Photo: Thomas Høyrup Christensen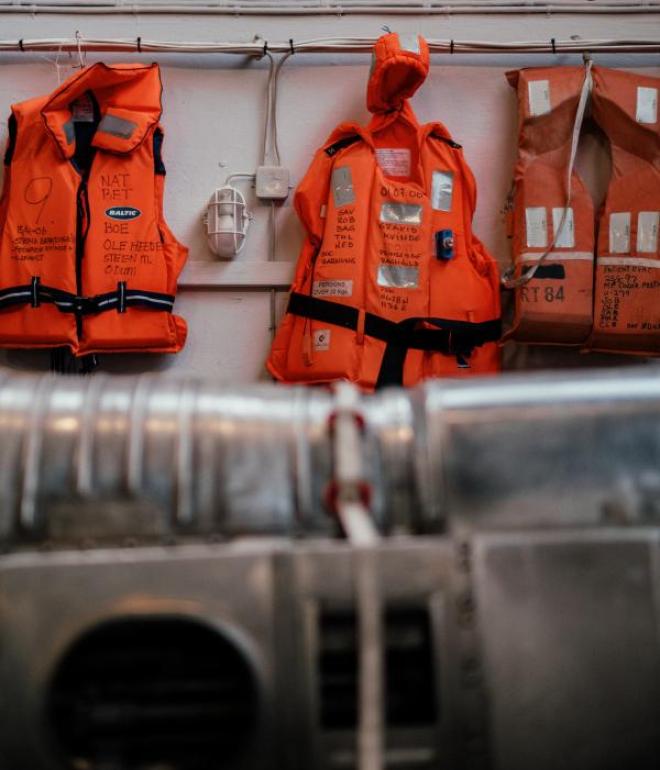 Photo: Thomas Høyrup Christensen
The hangar walls are covered with life jackets used in countless dramatic helicopter rescue operations, and two massive Draken and F16 fighter jets greet you upon arrival, accompanied by a shiny CF-104D Starfighter, dismantled jet engines, models, wings, tools, and several ongoing restoration projects (among them a T33A airplane and a Lynx Helicopter). In the back offices, among piles of books and documentation from the active airfield, volunteers are painstakingly scanning old pictures, registering old personnel files, or hand-polishing the impressive and intimidating machinery.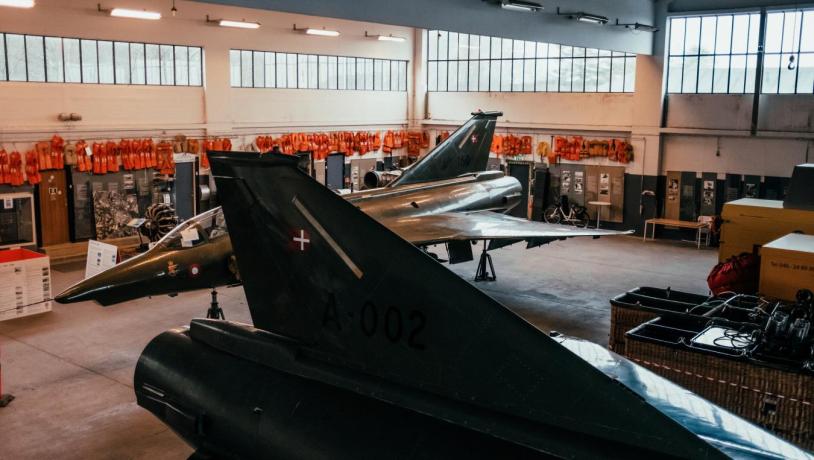 Photo:Thomas Høyrup Christensen
The head of the volunteer association is 82-year-old chairman Leif Richardson. He's a civilian who used to work with logistics and procurement, when the airfield was still an active part of the Royal Danish Defense.
"The one rule we have here is that when you enter through the hangar doors, everyone here is equal, and all hierarchy is gone. What unites us, is our passion for military airplanes and all the history related to this," he says.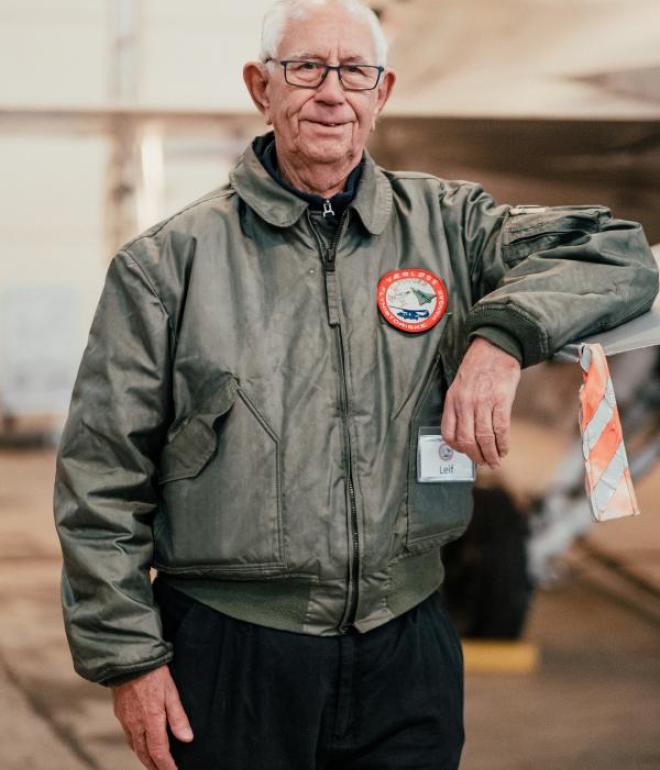 Photo: Thomas Høyrup Christensen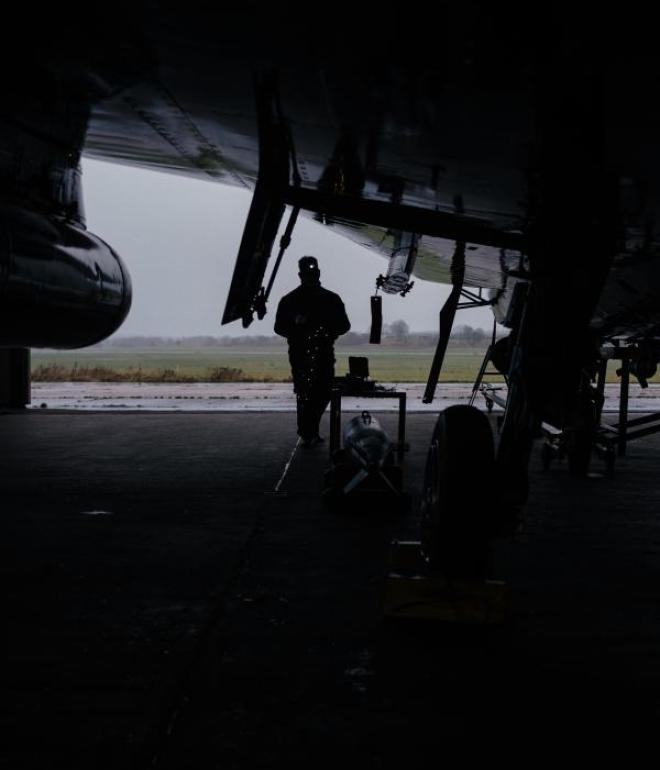 Photo: Thomas Høyrup Christensen
The volunteer association sports more than 120 members, ageing from 16 to 85 years old, spanning across diverse backgrounds such as ex-firefighters, accountants or electricians.
What's surprising is how few of them have any professional experience maintaining historical aircraft. That makes it very much a question of "learning by doing" – leaning on each person's expertise and carefully reading old manuals (manuals for fighter jets are apparently a thing). Or as Leif Richardson expresses it: "What you don't know when you start here, you can learn."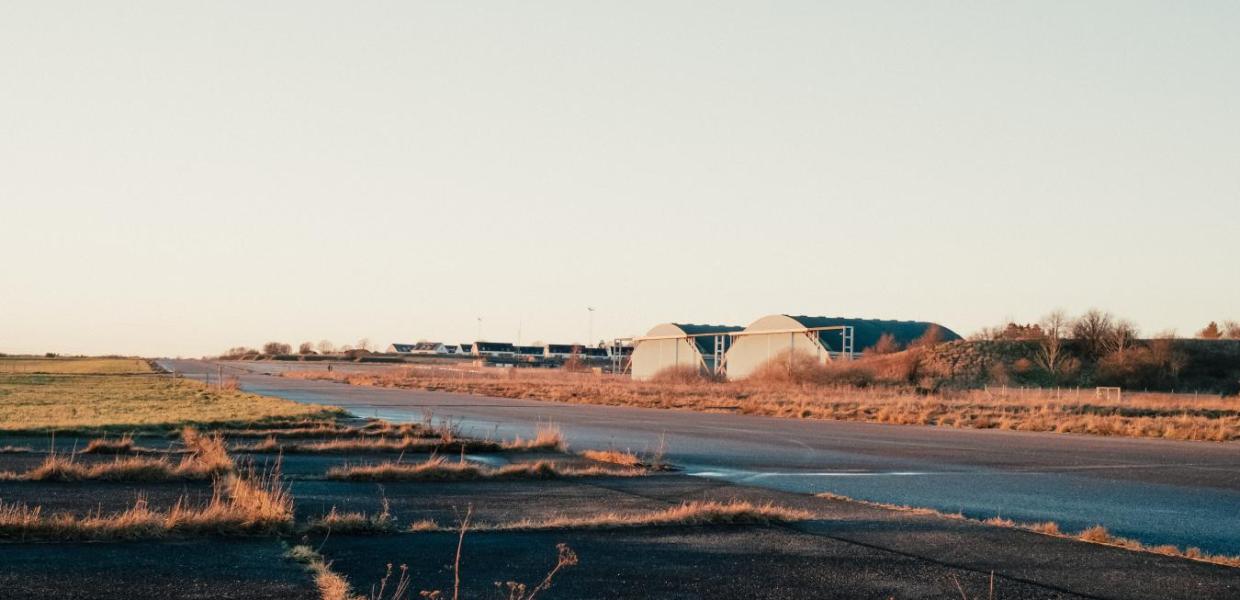 Photo:Thomas Høyrup Christensen
The hangars are open to the public on Tuesdays and Saturdays, where anyone with a fling of interest in military airplanes and memorabilia can get their needs fulfilled.
World War II remains, and nature all around
The airfield is located in the middle of distinct, picturesque Danish nature. Its closest neighbors are Søndersø Lake to the north, the sprawling woodlands of Hareskoven to the east, and the hilly landscapes of Jonstrup and Måløv to the south.
It dates back to 1912, when it was established as a tent camp for young danish army recruits. From 1934 up until 1940, the airfield itself was constructed, and on the 9th of April, 1940, The German Luftwaffe attacked and later occupied it, up until the end of the war in 1945. Remnants and ruins from the German occupation are still lurking in corners of the site.
Today, the southern part of the Airfields hangars and workshops is home to film and television studios and residential areas are popping up on all sides, which underline the appeal of the place and its new era.     
Highlights from the area:
Shelter 214: Located in an old jet hangar, this unique café attracts everyone from local families with kids, to hip sports bikers with expensive gravel bikes, and everyone in between. The outside beach chairs are a perfect spot to soak up the springtime sun while slurping organic ice cream or sipping coffee. www.shelter214.dk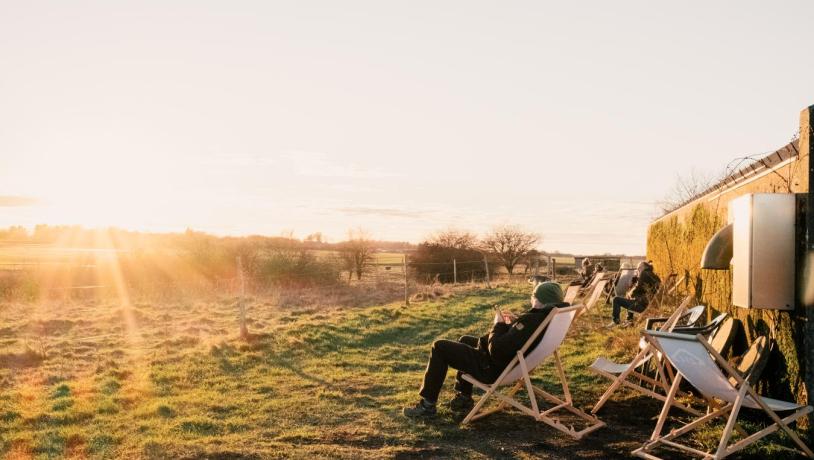 Photo:Thomas Høyrup Christensen
Filmstationen
This creative village is located on the airfield's southside, in the old army hangars and workshops. Artist studios, craft brewers, caterers and creative production companies mingle with children and families all year round. www.filmstationen.com
Rokkedyssegaard
Berries, berries, berries: The couple Lisbeth and Torben have perfected their berry production over the last 15 years and offer a stunning farm experience in the berry fields, particularly in the summer months, finished with coffee and berry smoothies or cakes, in their cosy café. www.rokkedysse.dk/english/
See more of Flyvestation Værløse