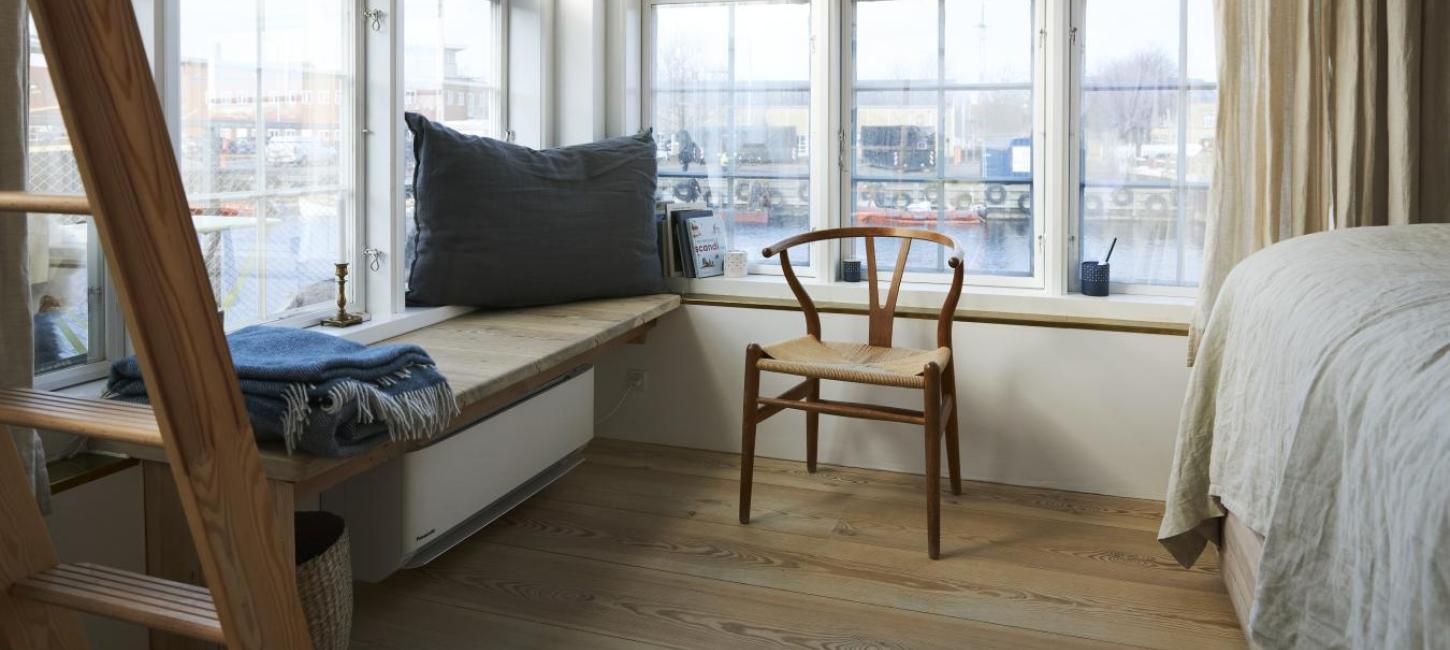 A life on the water - visiting Kaj Hotel
Photo:
Santiago de la Vega
By Frederik Legind Ibsing
Have you ever wondered what it would be like to live on the water? Being rocked to sleep every night and being able to jump in the water and take a swim right out of your front door. In Copenhagen, many people actually live their lives that way. 
On the outskirts of Copenhagen harbour and in the many small canals, some people take the concept of life on the water to a higher level. Many people are living on houseboats here, ranging from old, converted ferries to modern houses built on pontoons. Gripped by a fascination with life on the water, I decided to look a bit more into it. At the northern end of the harbour at Holmen, Barbara and Toke live on a houseboat. Next door along the quay is the Kaj Hotel, also owned by Barbara and Toke; a one-bedroom houseboat with a kitchen and a bath that they rent out. On a cold, but nice February day, I went out to have a chat with them about their way of living and to gain a bit more knowledge about the concept of living aboard.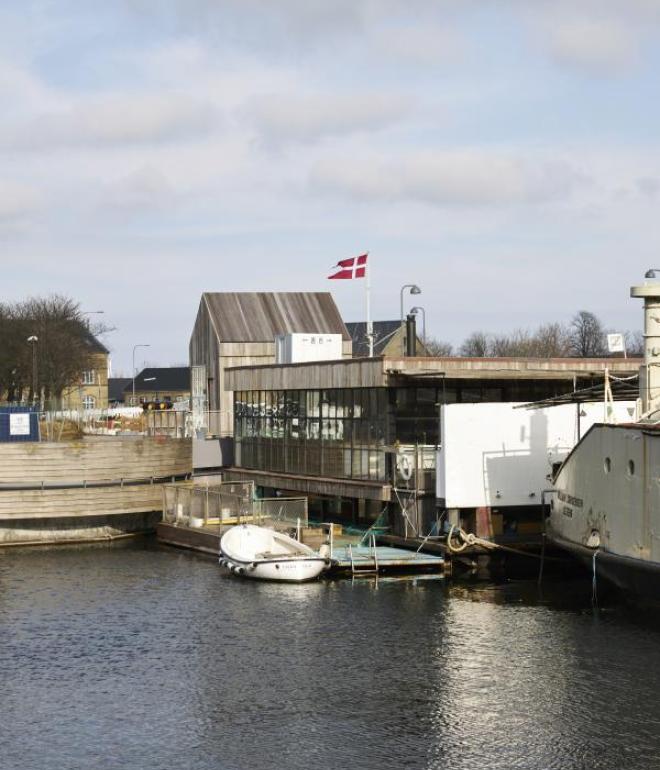 Photo: Santiago de la Vega
Kaj Hotel and the houseboat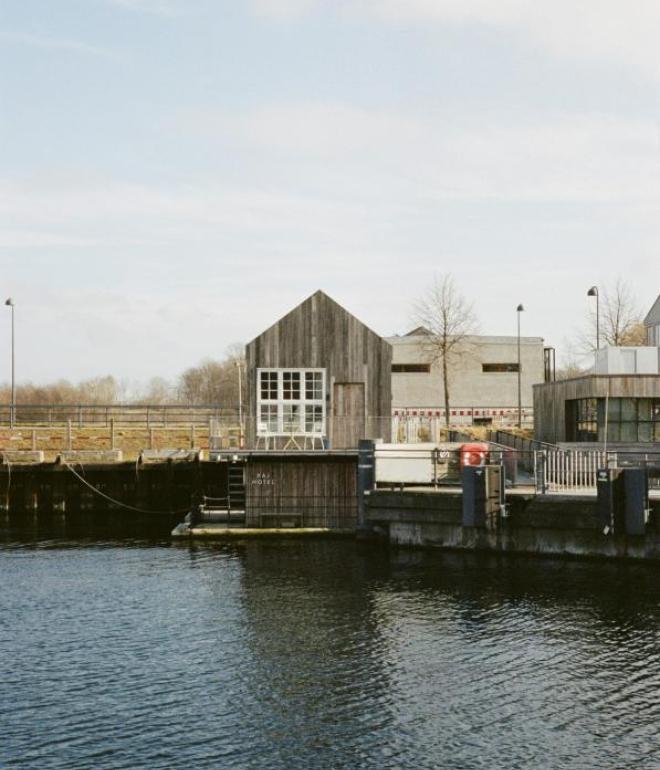 Photo: Santiago de la Vega
Water inside the boat
At the front door I am greeted by Barbara and Toke, who ask if I want to start with a tour of the outside. I can already feel that I am on a boat. Hardly any waves today, but you can still feel it rocking a bit. Enough to make you notice it, but not in an uncomfortable way. The tour is quickly interrupted by one of the everyday problems that comes with living on the water. Their little boat Oda is full of water, and therefore needs to be emptied, probably because of the recent storm we've just had. "Now you just witnessed one of those fun and different tasks we deal with, like having to go down and empty the boat before going to work," Toke says.  
It makes me wonder how much they actually use Oda for everyday purposes: I mean, how are they dependent on it? "I used it a lot when I was working in Østerbro, sailing to work. But now that we have to drop off the kids, it doesn't fit into the logistics that well," Toke says. "It's definitely a part of the good story; using the boat for work, living your whole life on and with the water," Barbara adds. But the reality is that it's only useful if, for example, you need to cross straight over the harbour, otherwise it's simply too slow. "In the summer, we pick up people at Toldboden, as the parking is terrible over here. You can save 20 minutes that way," Toke says.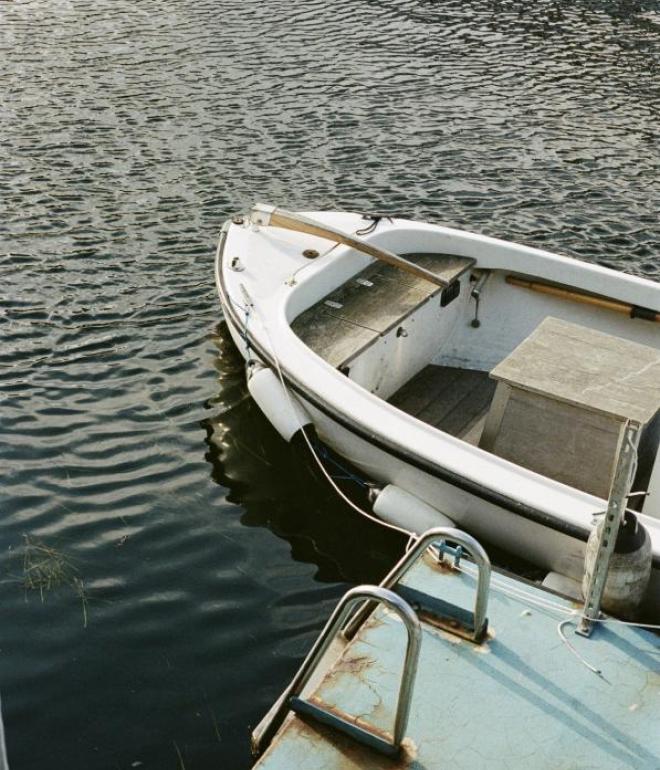 Photo: Santiago de la Vega
Their little boat Oda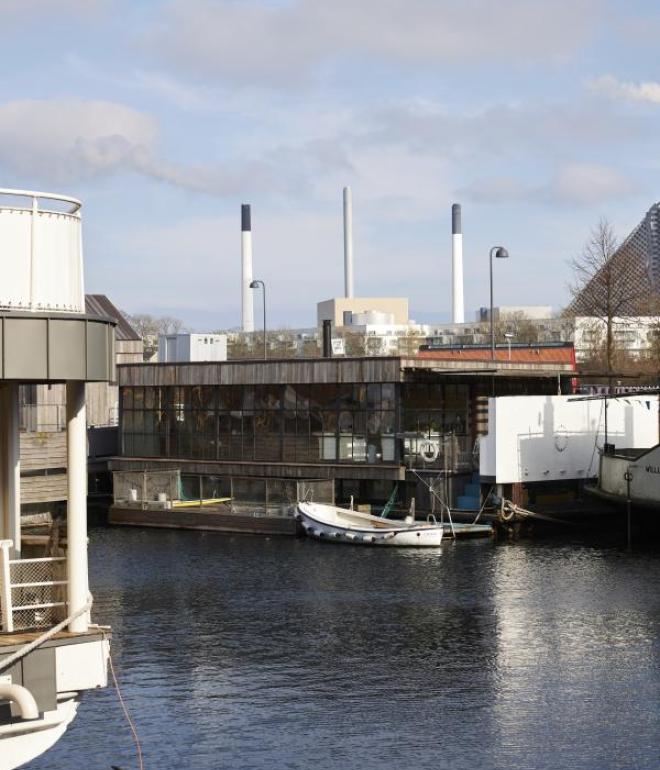 Photo: Santiago de la Vega
However, this does not mean that Oda is useless. "We use the boat as a fun feature. The kids really love sailing around in it, down to La Banchina or just around the harbour. In the summer, when the weather is nice, we take our dinner out on the boat, and sail out to enjoy it." 
The pros and the cons 
While Toke empties the boat, Barbara continues the tour inside. The boat has two floors, with the kitchen and living room combined in one large room on the ground floor. The bedrooms and a bathroom are located downstairs. But it's the panoramic windows on the ground floor that really strike you when you walk in. They kind of bring the whole harbour into the living room, and you can't help but look out on the water. "When stepping onto the boat, what you notice is everything that's outside the boat, and I think that's really cool. It gives you a sense of freedom," Barbara says. One thing they can both agree on as being one of the best things about living on a houseboat: "It's the light, the water, and the waves. There's always something going on. You're surrounded by air all way around," Toke says. It's especially in winter that the big windows come into their own, as they let in so much light, making the dark times a little less dark.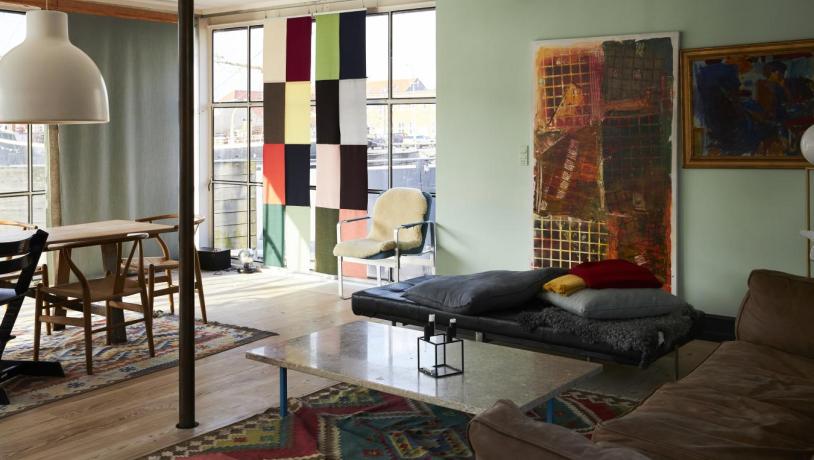 The living room at the houseboatPhoto:Santiago de la Vega
But what about in the summer, do you use the harbour differently when living on a houseboat? "In the summer, it's just great. You pinch yourself a bit because you don't always notice it in everyday life," Barbara says. And it's not hard to imagine how cool it must be when the weather gets a bit warmer. "For example, jumping in the water in the morning, I don't do that all the time," Toke says, "But Barbara does it a lot. We really get to use the harbour a lot in the summer." They also tell me about a friend who often comes sailing in the summer in his sailboat and moors at their houseboat. "It's a very nice way to have guests over, you just have to lend them a bathroom and a shower, and they sleep by themselves on the sailboat," Barbara says.  
As well as swimming in the harbour and having guests visit by sailboat, they also have both kayaks and stand-up paddleboards which they use to explore the harbour. "You can alternate a bit between swimming in the harbour, stand-up paddling, and kayaking," Toke says.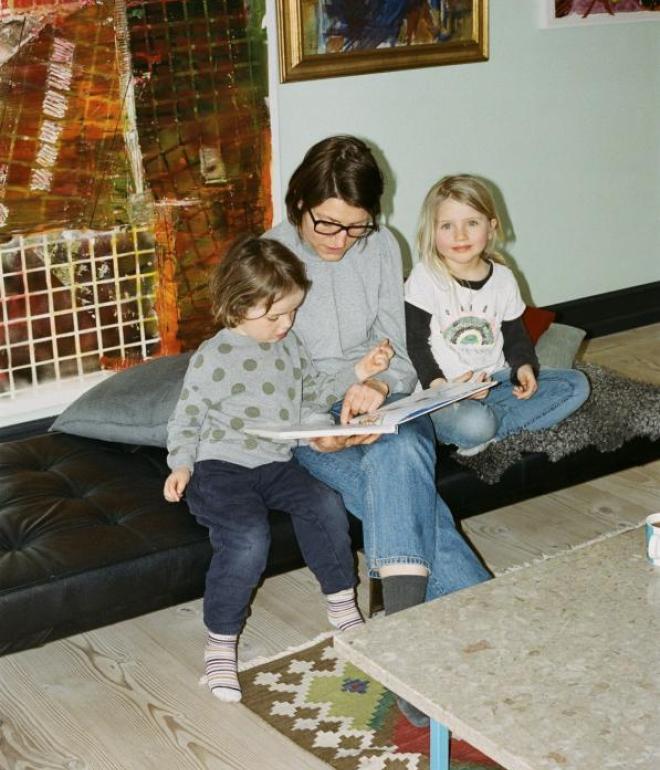 Photo: Santiago de la Vega
Barbara and their two children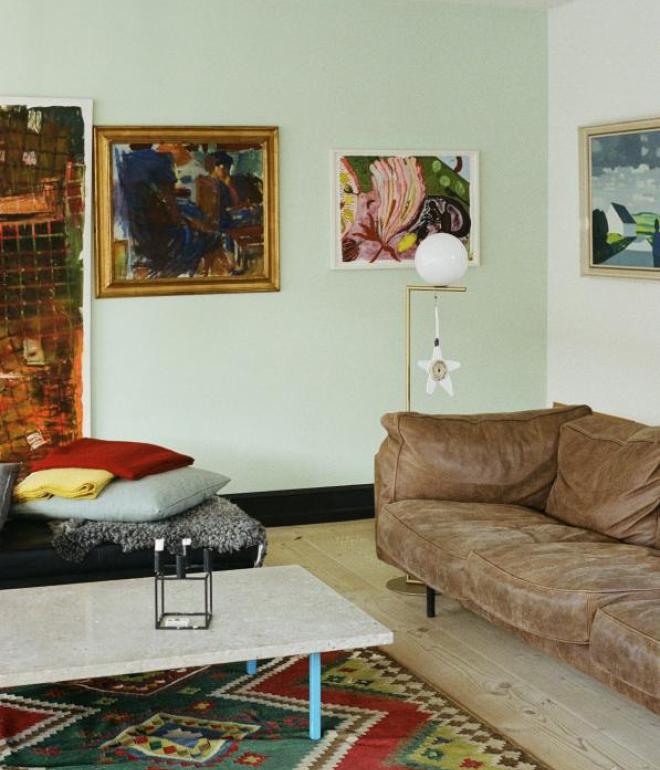 Photo: Santiago de la Vega
My urge to move out on a houseboat doesn't dull as I talk to Barbara and Toke. I am therefore curious as to what they themselves think could beat the houseboat life. "A beachfront villa with its own jetty might be able to compete with living on this houseboat, but you can't afford that," says Barbara. Maybe we should get on to focusing on some of the more annoying things about houseboating - in other words, there must be some of those.  
The first thing that comes to mind is the icy winter weather. "When it's winter, everything moves a bit more because of the wind, but we've gotten used to it now. But when the water turns to ice, the houseboat is stuck and stops moving, like a house. It's totally weird when you're used to everything rocking a bit," Toke says. "In an apartment or a house, you kind of know how you're going to get out every day, but not here," Barbara adds. High water and ice can affect their gangway, making it almost impossible to get off the boat. Barbara tells me this, as she's thinking back on a day when she had to drop off her children at kindergarten but ended up staying at home, as she thought it was too dangerous to get off the boat.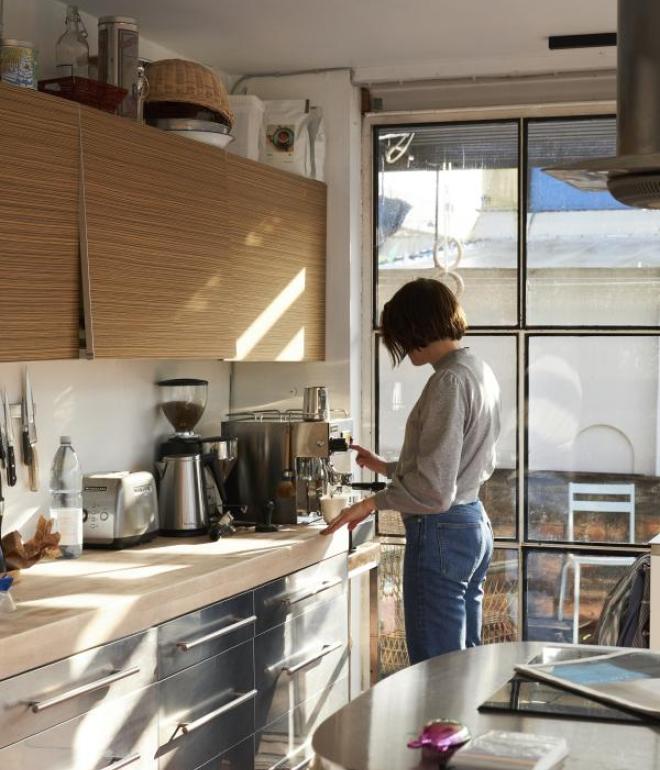 Photo: Santiago de la Vega
Barbara makes coffee in the kitchen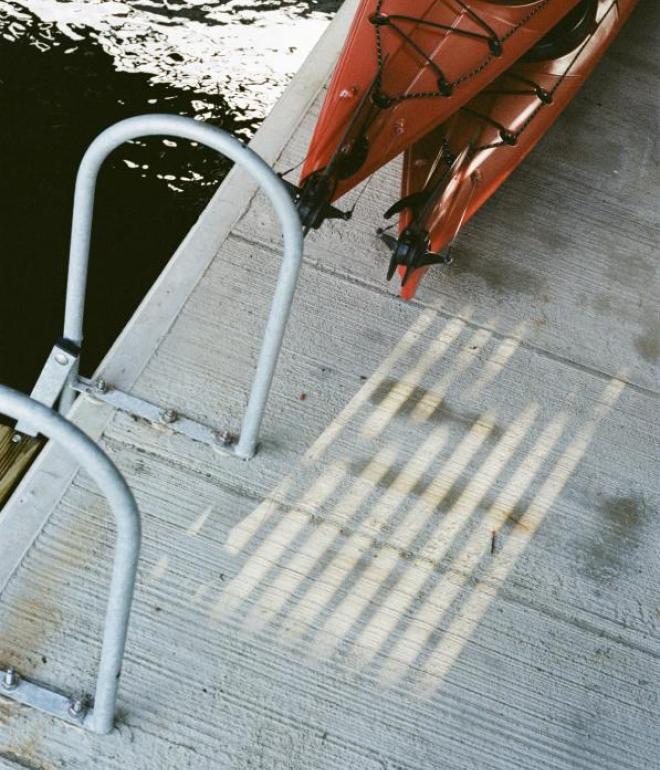 Photo: Santiago de la Vega
It seems as if living on a houseboat equals living much more on nature's terms. Something they felt, for example, here in January and February, when two storms were blowing across the country. "After the last storm, there was a high tide, and the strong winds made everything move. We all feel that here on the boats, so in those times you don't sleep too well at night. We were out at 6 am, when the tide was high, tightening a mooring and adjusting it a bit. Then you have to set your watch and get up to keep an eye on things," Toke says. "We had guests at the Kaj Hotel during the storm: they thought it was a cool experience. They woke up a few times, but otherwise they had slept fine."  
The small floating hotel 
This leads me to Kaj Hotel, their small houseboat, which they rent out to people who want to try out a different kind of accommodation. Toke designed the Kaj Hotel himself and built it from sustainable materials. He has been all over Zealand to get recycled wood, partly from old garden furniture.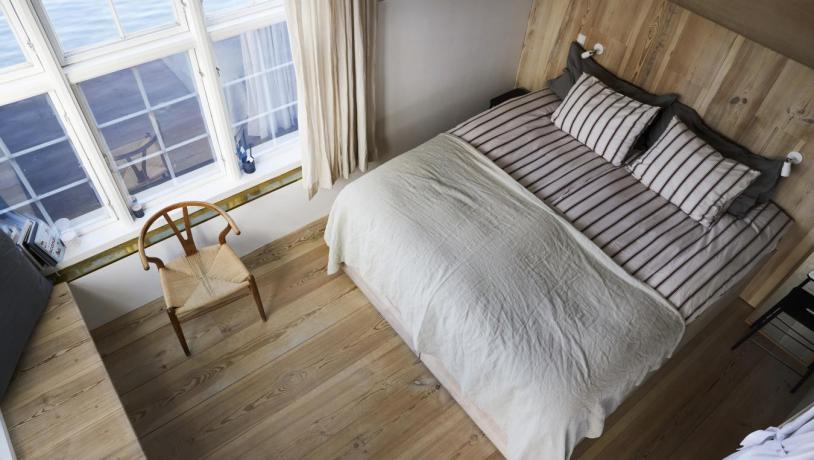 The interior of Kaj HotelPhoto:Santiago de la Vega
We step outside and continue the tour over at the Kaj Hotel. When you enter the door, you are surprised by how spacious it really is, for a room of only 16 square metres. There are high ceilings that look up to a galleried bedroom. Just inside the door, there is a small tea kitchen, and the space is otherwise dominated by the bed in the centre of the room. And, just like on the big houseboat, you have a huge window that lets in the harbour and the light. There is also a small bathroom and shower. "It's all there. We had some guests who said that there was just what you needed, leaving no stress about unnecessary things. Just 4 cups and 4 forks", Barbara says.  
How did they actually come up with the idea to start a small floating hotel? "We were in Puerto Rico, and we had just put our houseboat on Airbnb. We got an insane number of requests from people wanting to rent it for the summer. Or, 'My daughter is getting married, can we rent the boat for that?'" Barbara says. "It was actually a long process," Toke continues. "First, we talked about it just being a room we could rent out. But what about the bathroom and shower? Then the idea came to create this mini-hotel where we could provide everything". "And Toke is a man of action," Barbara continues, "I probably would have just kept talking about it. But Toke drew on the idea, and suddenly pontoons were ordered."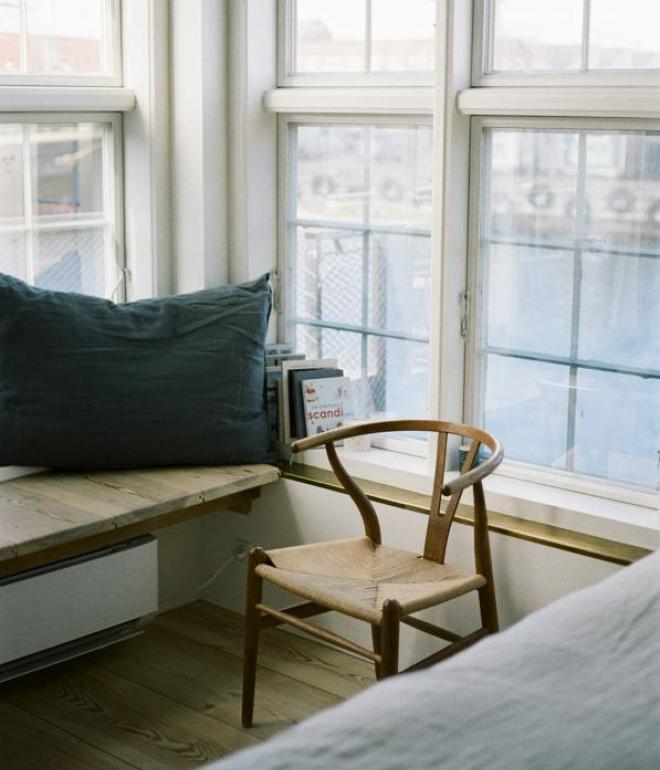 Photo: Santiago de la Vega
Y-stolen at Kaj Hotel, and the ship Georg Stage reflected in the window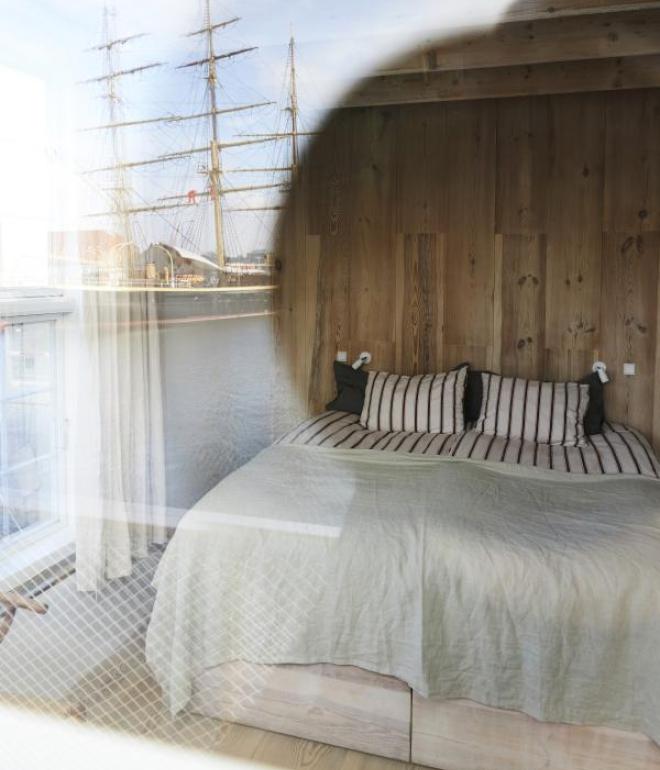 Photo: Santiago de la Vega
The decor is also something you notice in the Kaj Hotel. A generally bright and cosy Scandinavian atmosphere, with Danish design all the way through; something that has definitely been well thought out. "Kaj Hotel is a genuine hotel experience, where you are not disturbed by the children's toys and our private photos. You walk in and get that Scandinavian feeling, with the Vola fixtures and Dinesen floors. We've really focused on using products from Denmark and Scandinavia. Vola is Danish, and so is Dinesen, well, and the cuisine is Swedish," Toke says.  
"We're also pondering the idea of doing more of them. Just as you can stay in a palm hut on stilts in the Maldives, you could also try out a small houseboat in the Copenhagen harbour. If you could make a few more of them and moor them somewhere, it would be great fun." So far, however, there is only one Kaj Hotel. "So many people ask us what it's like to stay on a houseboat, and that's the experience we give them by having them stay at the Kaj Hotel," Toke concludes.