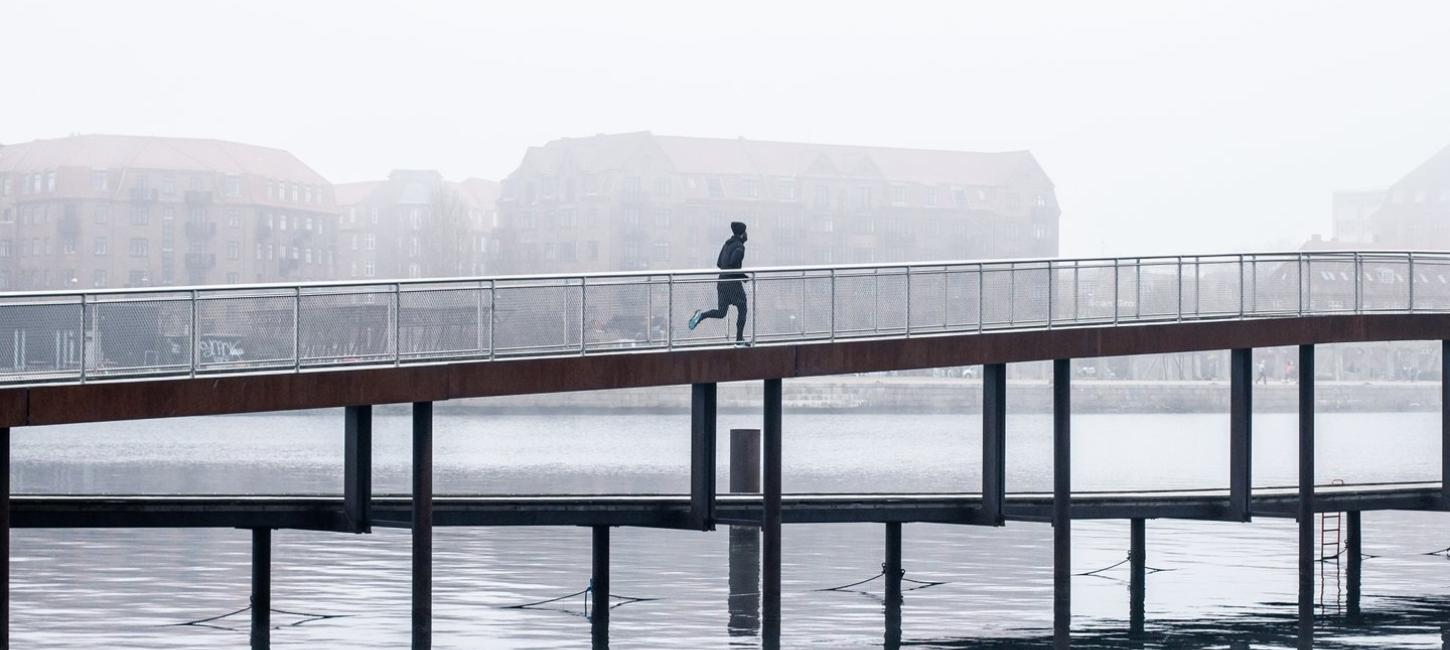 Let's go for a run around Copenhagen Harbour
Photo:
William Himmelstrup
First of all, let's get one thing straight. I am not a runner. I'm someone who will occasionally go for a run to maintain a somewhat decent shape. And to prove that I still have it in me and confirm that the sedentary office work, the lunch buffet, and the Thursday cake still haven't caught up with me. Legs still good? Can the lungs keep up? 
The second thing we need to make clear; I pretty much always run the same route. Vestre Kirkegaard, Søndermarken, Frederiksberg Gardens. Often just the cemetery route. My urge to challenge the distance is limited: three miles, that's fine. That's usually all I need to sense if I'm still in shape.  
My reasons for mostly running in parks and cemeteries are obvious. No traffic, apart from the pedestrians you have to zig-zag through: there's a bit of green for the eyes and gravel to run on most of the way. 
Now I'm going to try out something new, a new running route through Copenhagen. 
The challenge is to find a good route through the city, where:  the traffic is not too crowded, you get some fresh air, the surface is not too hard, there is something pleasant for the eyes, there is not too much noise, and perhaps most importantly; you don't have to stop for red lights every few moments. Is this even realistic? 
The only way to find out is to try it out yourself.  
Come along! We're going for a run in the city. 
I'm standing below The Bicycle Snake at Dybbølsbro, fiddling with my running watch. I must admit, it's been a long time since I've used it, but I'd like to measure how long the route is. Time is not that important. The most important thing for me this morning is to keep my eyes and ears open while running.  
It's a bit after seven, and the temperature is a little above freezing. We are at the beginning of March. And although I am not much of a morning person, I have to conclude that it's a lovely morning. Slightly foggy, not too windy. The plan is to run down Kalvebod Brygge until I reach Knippels bridge, over the bridge back home along Islands Brygge, and then through Bryggebroen back to my starting point. A section of the established Havneringen route. Go.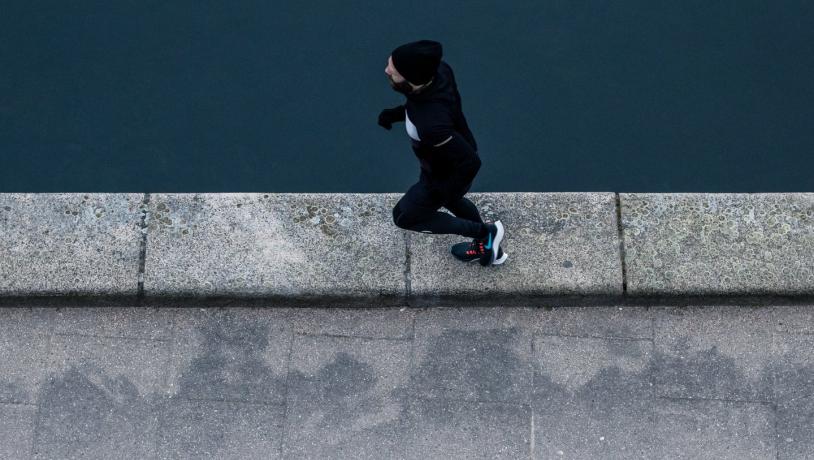 Photo:William Himmelstrup
I only have to run a few metres before realizing that, for years, I've been robbing myself of the experience of running here. There's something instinctively wonderful about looking far out over the water. A good start, although I have to stop and find my way around some construction. I wonder what they're doing. 
I'm not the only one who's had the brilliant idea to go for a run this morning. In the first few hundred metres, I find that I am constantly being outrun by others who look a bit more at home and who, unlike me, don't have a bunch of keys in their pockets rattling with every step.  
The city is already bustling. Not that it's crowded. I don't have to run zig-zag. There is plenty of space, but people are already on their way to work or school, by car or bike in their warm coats. The harbour bus sails towards me in the direction of Sluseholmen and is a good reminder that if I get cold, I can always just hop back on.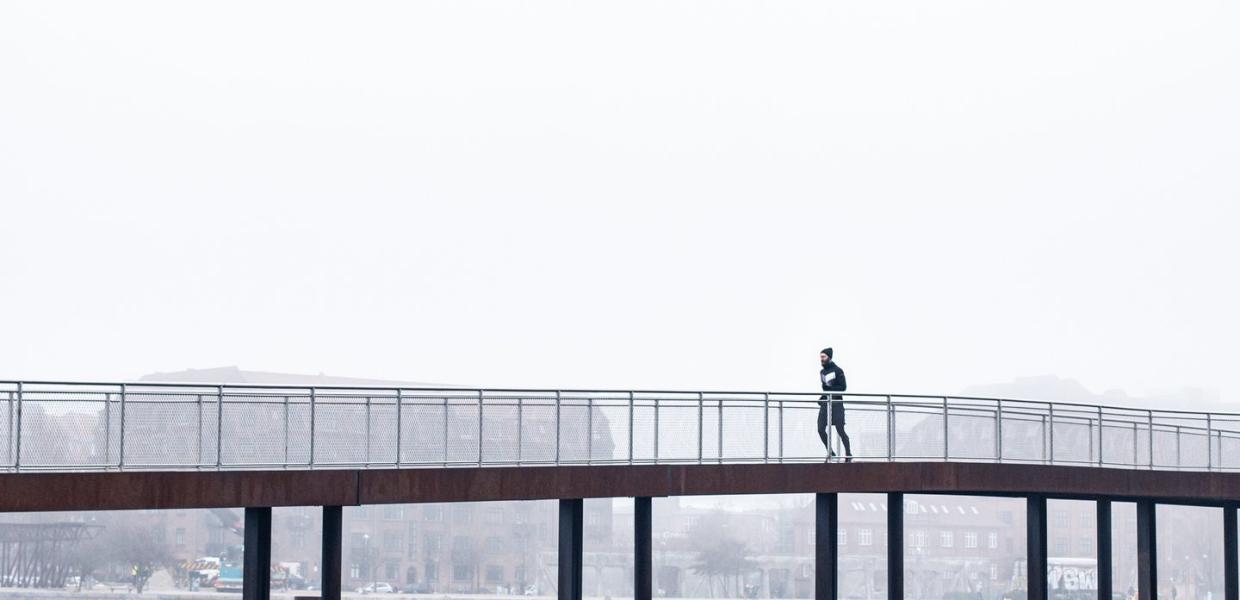 Photo:William Himmelstrup
Kalvebod Bølge, where outdoor training facilities have been set up, among other things, is empty. Maybe I'm too early. Maybe it's still a bit too chilly. On other days, I know that people are here building muscles, practising yoga, and posing in tight-fitting workout clothes. 
Winter swimming and treadmill 
A few hundred metres further down Kalvebod Brygge, I pass The Dyppe Zone, a construction built to make the harbour accessible for swimming all year round. A guy stands in his swim trunks and dries his hair with a white towel. Winter swimming has been a big trend the past few years. It especially took off during the Corona lockdown in the winter of 20/21. Personally, my curiosity hasn't yet driven me into the water. It may come. 
When I run past Blox, designed by the renowned Dutch architectural firm, OMA, which, as well as the Danish Architecture Centre, houses a fitness centre, I glimpse two women on treadmills behind the glass windows facing the waterfront. More comfortable on such a chilly morning? Well, probably, but I wouldn't trade. My legs are warm and moving on their own now, and passing through the city makes the run more than just a workout. In fact, I would already go as far as to call it an experience.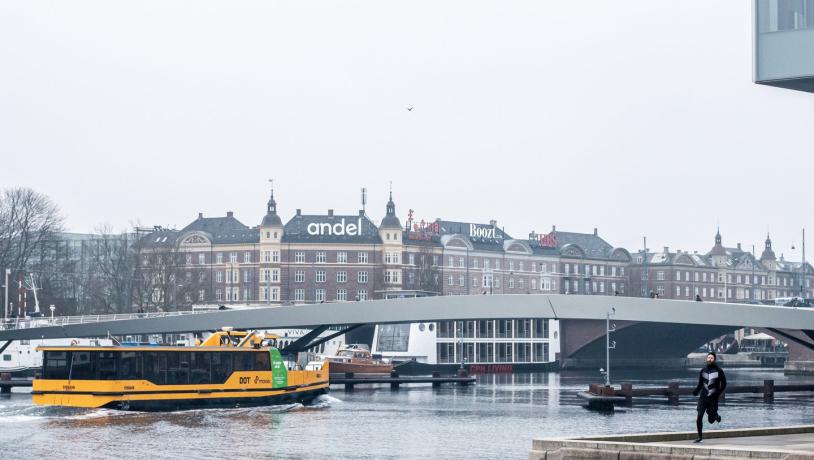 Photo:William Himmelstrup
I reach Knippelsbro, and I'm about halfway. 1.5 miles, or so. I feel good, my legs are good, and the harbor bus is totally out of the question. That I can feel. To my left, crossing the busy Knippelsbro, I can get a good view looking down at the Royal Opera on Holmen. This would make a good place to stop and catch your breath and enjoy the view, but I'll pass. I'm just going at it now. 
Now I'm smiling too, all of a sudden 
Then it's back across Islands Brygge, where I pass over The Circle Bridge, designed by Studio Olafur Eliasson, feeling light as a feather. The bridge is made up of five circular platforms, each having its own sailing boat mast, sending a nod to Christianshavn's maritime culture and history. The bridge was opened in 2015 and is well placed to connect Christianshavn and Islands Brygge. I like that bridge. Without it, my trip would be somewhat longer and tortuous.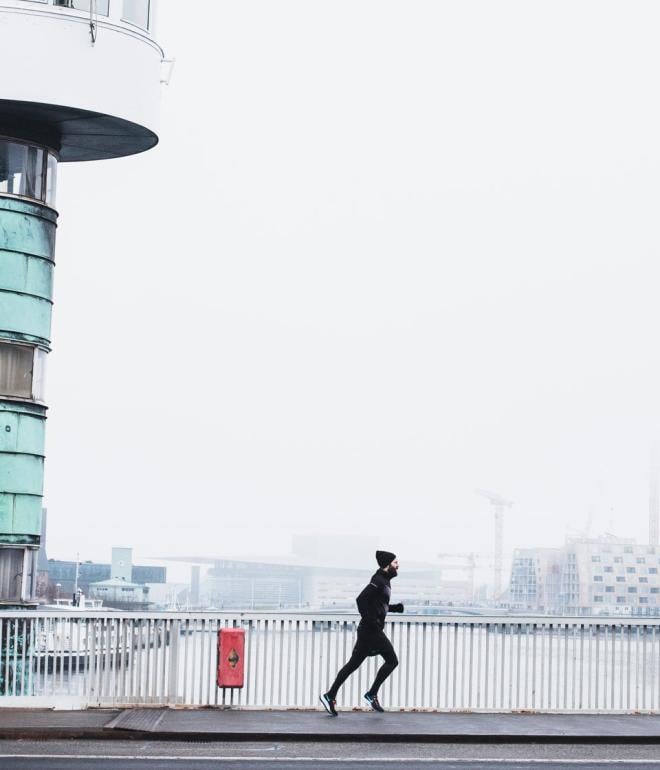 Photo: William Himmelstrup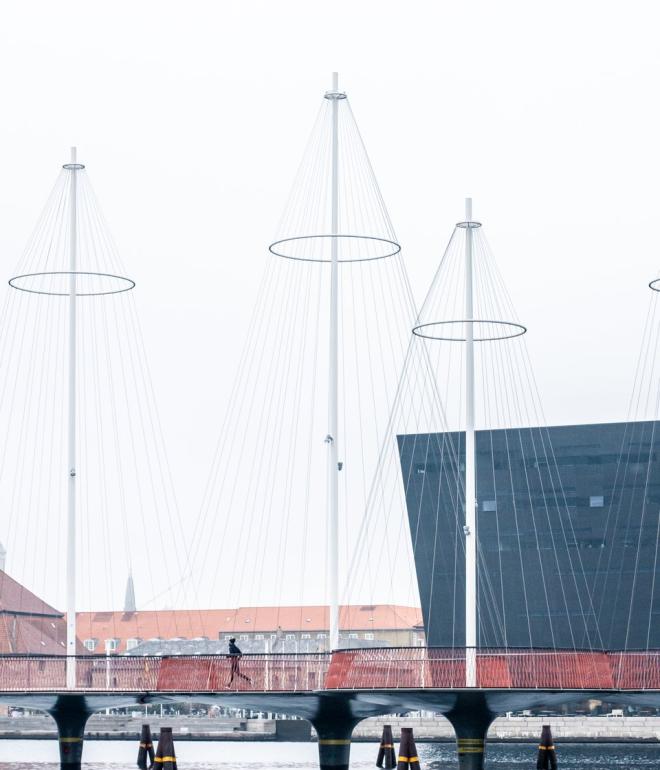 Photo: William Himmelstrup
Across the harbor, I can see both the Black Diamond and Blox. It's great to experience these two striking architectural gems up close and in detail, and then from a distance and in their entirety. It's really something. I even catch myself smiling. This is shaping up to be an even better run than I expected. 
Full of courage and enthusiasm, I speed past the Islands Brygge harbor baths, which, on a summer's day, are an attraction of the other world. This morning, there are a couple of dog walkers, a couple of cross-fitters, myself, and some other runners, with whom I exchange breathless nods as we pass each other. We don't stop to chat, we're in the zone, but we acknowledge each other's efforts. In fact, a rather special community, which in practice relies mostly on silent consent.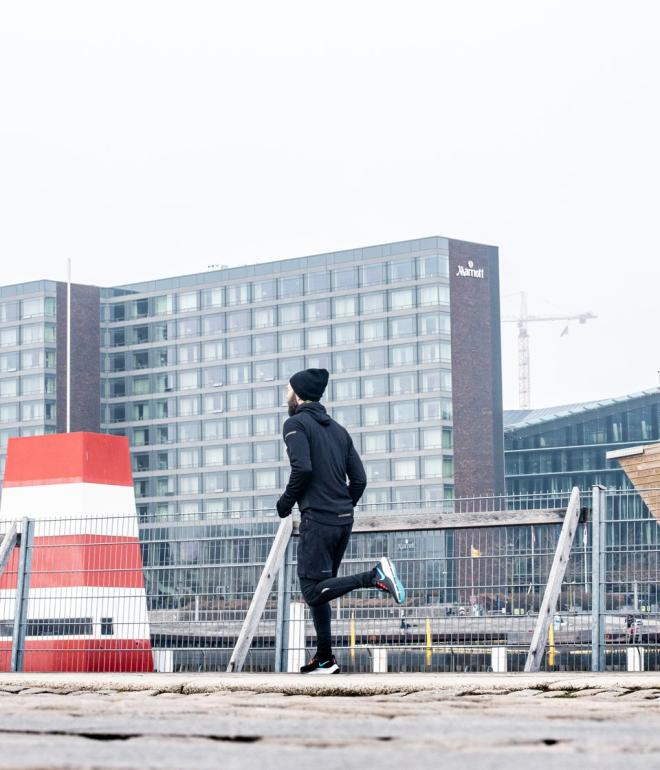 Photo: William Himmelstrup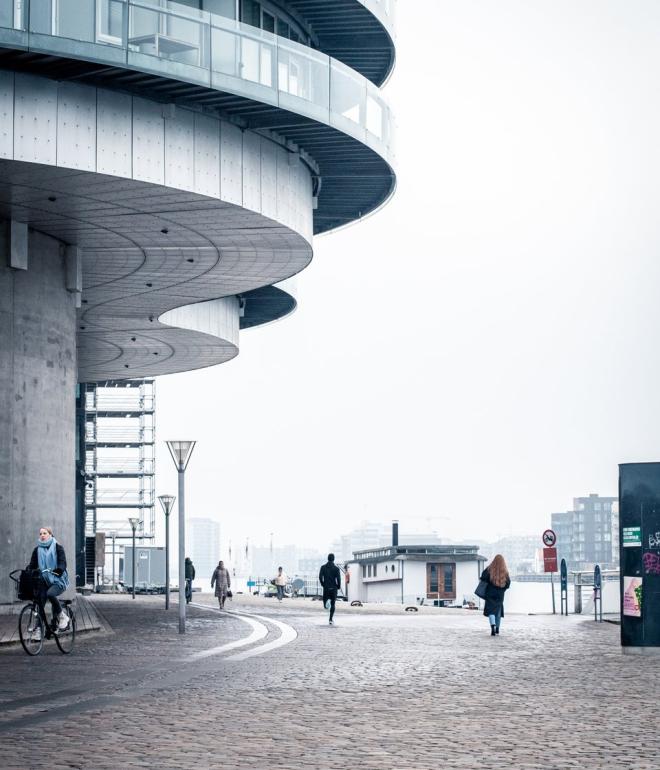 Photo: William Himmelstrup
This is gonna be something I can truly recommend 
And then, I've reached the end of the road. One last glimpse down the harbour to both sides as I walk metre by metre along Bryggebroen. Almost 3 miles, which I can only recommend. All the criteria for a good run are met. Not too crowded, the surface is excellent. On a long part of the route on Kalvebodsiden, you run on planks that spring lightly under you. It's a flat route. There is a little up and down stairs around Knippels bridge, but nothing too excessive. Part of the Islands Brygge side is paved with cobblestones, but at the same time, two long rows of tiles have been laid, providing a more even surface.  
Something that is absolutely crucial for me, and I think for many runners, is that you don't have to stop every so often, waiting for traffic, etc. to move on. This is something that can be a bit of a challenge when running in an urban environment, but I only had to slow down one single time and wait to cross a bike path at Lille Langebro. 
Best of all, what I'm most excited about is that there's so much to take in, making the trip seem less strenuous. Frankly, I was surprised that my running watch had registered 3 miles. I would have guessed 1.8. And, you know what? If you don't feel like running, you can walk the route and it will be just as awesome. And you can expand and narrow it down according to your needs and level of curiosity. 
Honestly, if you're looking for a beautiful walk through the city, getting your heart rate a bit up, then just go for it. I'll be running this route many times from now on.