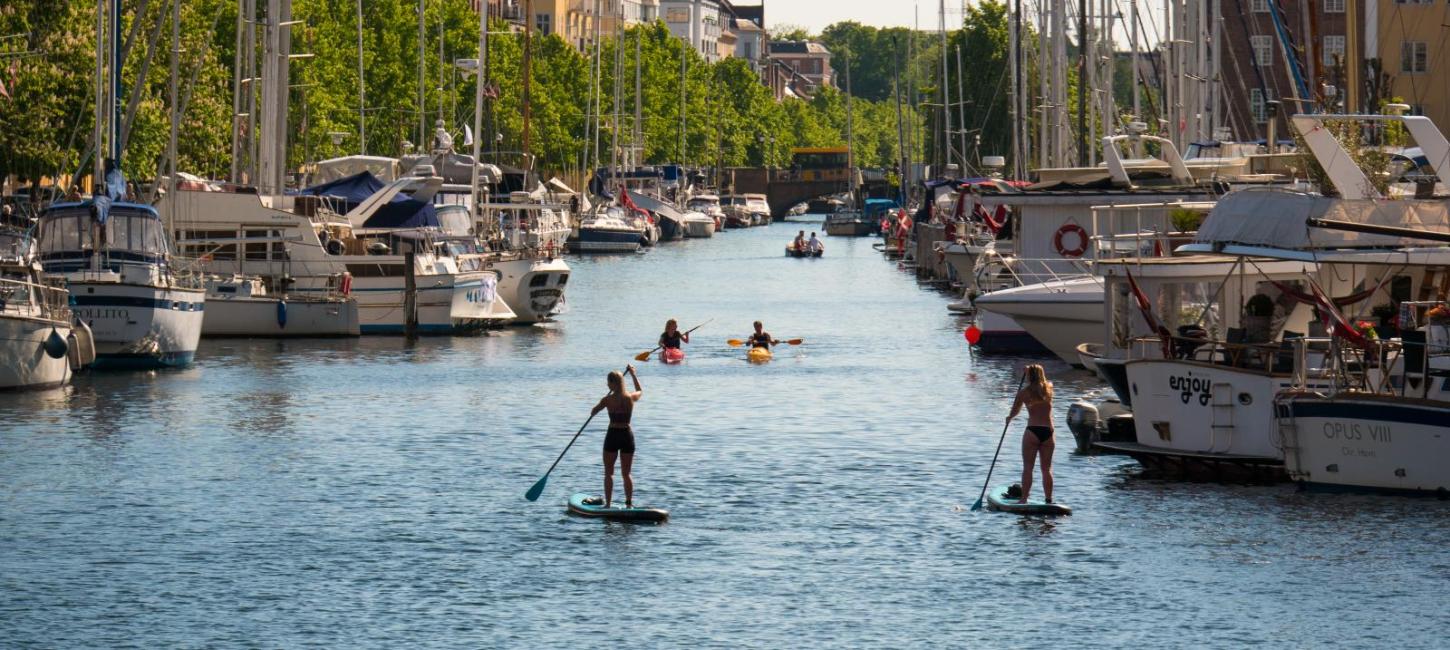 Enjoy the summer in the Copenhagen Harbour
Copenhagen is a city that mixes a green mindset with ingenuity and fun. For instance, if you rinse the harbour to make the water super clean, why wouldn't you build a floating swimming pool for locals and visitors? 
Life in, on and around the water 
There are so many fun things to do around the harbour and the canals of Copenhagen. Swimming, sailing, enjoying a glass of wine with your feet dangling from the dock. We have picked a couple of options to dive into, but beware that these are only the top of the Iceberg. 
Three harbour baths you can't miss
Islands Brygge Harbour Bath 
With a harbour clean enough to swim in it, public harbour baths are something that just needed to happen. And they are very popular among both locals and visitors.  
One of the most visited is located at Islands Brygge, right across the bridge from the city centre. This spot has become iconic, and here you get open-air swimming right in the centre of the city. Meet local families with children, beach boys and regular swimmers alike.  
Jump in the clean waters of Copenhagen's harbour. It's one of the only capitals in the world, where the harbour is clean enough for a swim. Photo:Astrid Maria Rasmussen
On hot days, Copenhageners swim with the city's skyline in free view. During the week, many locals pass the pool for a quick dip on their way home from work.  
The quality of the water is checked daily and has to be approved by the authorities before swimmers are let in. There are five pools in all, two of which are specifically for children. The shallowest pool is 30 cm deep. The diving towers are one, three, and five metres high, respectively. 
Sandkaj Harbour Bath 
Sandkaj Harbour bath is an official bathing zone in the new Nordhavn quarter, where the boardwalk, the cafés and bathing guests create a lovely beach vibe. 
Sandkaj bathing zone is open year-round and is a part of the boardwalk in the newer part of town, Århusgadekvarteret in Nordhavn. During summer, this is a much-loved spot for sun-lounging and bathing in the harbour.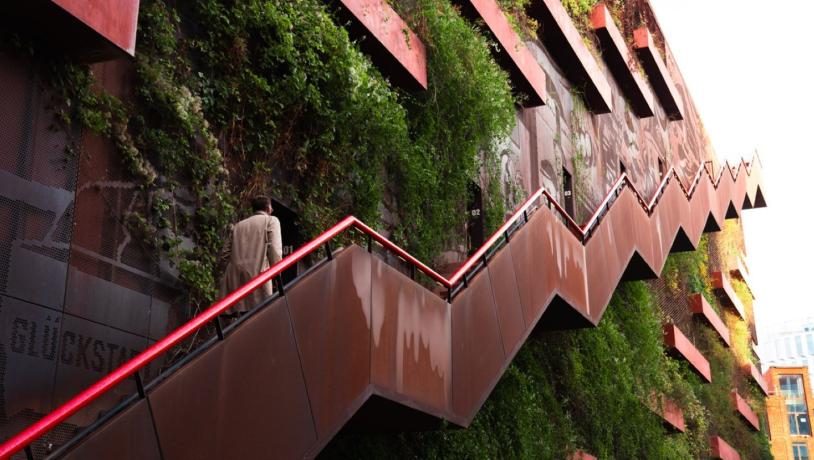 Always packed on a warm summers evening out at Sandkaj harbour bath in Nordhavn.Photo: Daniel Rasmussen
The Århusgade quarter in Nordhavn is a new and exciting area where cafés and restaurants keep opening, creating a buzzing feel around the bathing zone. 
Sluseholmen Harbour Bath 
Harbour bath Sluseholmen is a small but beautifully designed area with swimming facilities in the southern part of Copenhagen's harbour. 
The bath consists of a protective lagoon-like area for swimmers, divers and children with four pools: a children's pool, a youth pool and two pools for exercise and diving. 
The shape of Havnebadet Sluseholmen is inspired by corals.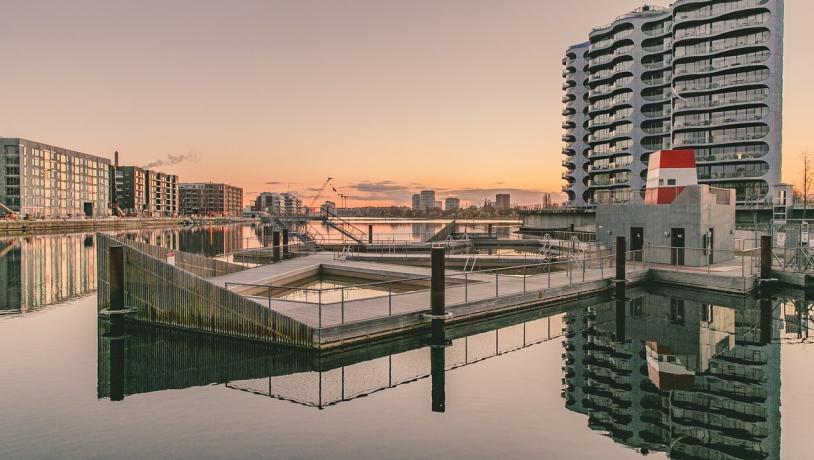 Photo:Thomas Høyrup Christensen
Tour the canals as the captain of your own ship with GoBoat
Experience Copenhagen from a completely new perspective and explore the harbour at your own pace with GoBoat. You don't need certification or sailing experience to drive a boat - just come aboard!  
Each boat fits eight people and has a picnic table in the middle, so you can enjoy good food, wine and chatter while Copenhagen slowly drifts by. The soundless boat engine ensures a calm atmosphere, and the scene is set for undisturbed experiences with the lucky few that you have invited onboard. As the captain of your own ship, you control where to go, following a guide given to you when you set sail.  
A sustainable tour of Copenhagen 
GoBoat has been developed with the environment in mind and offers a sustainable experience. Solar panels recharge the environmentally-friendly electric engines. GoBoat's wish is to treat the surroundings with respect and keep the harbour un scathed by their boats.  
Rent a solar-powered GoBoat and conquer sail through Copenhagen's harbour and canals on your own.Photo:Daniel Rasmussen
Reffen is an organic street food market and urban area for start-ups, innovation and creativity in Refshaleøen in Copenhagen. 
All of the stalls have to follow the sustainable dogmas "Reduce and Reuse": Use compostable food service, reduce food waste, use organic, free-range and local ingredients wherever possible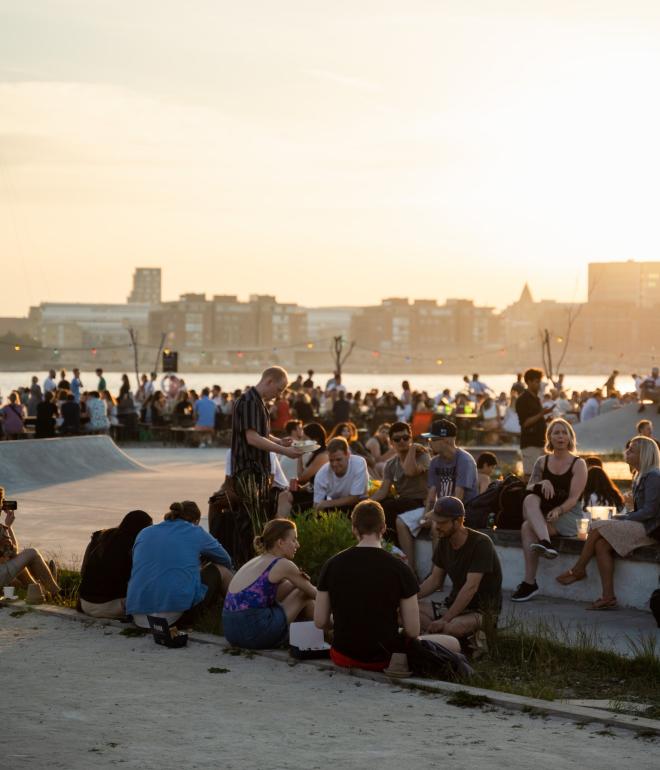 Photo: Lukas Bukanov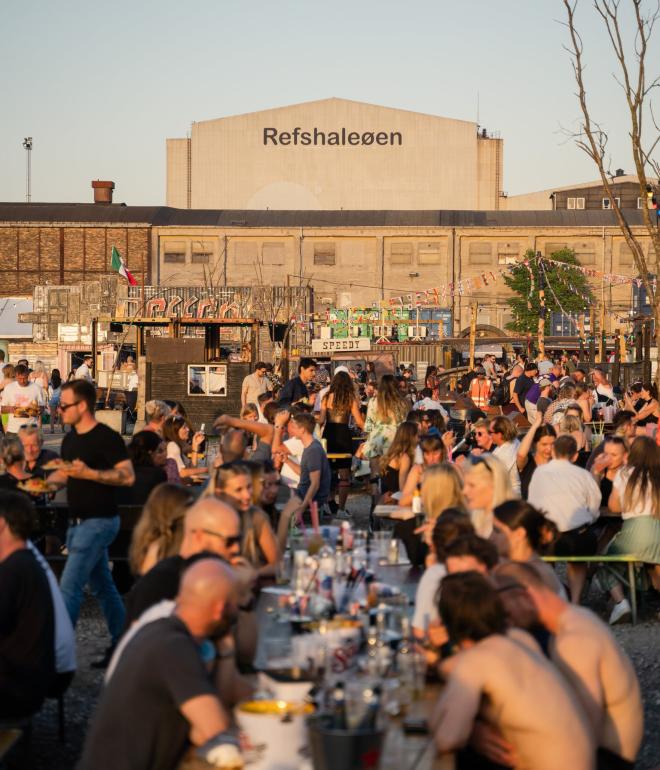 Photo: Lukas Bukanov
At Reffen you'll find more than 50 start-ups in the form of food stalls from all over, bars and creative workshops. Reffen consists of a 6000m2 area, and there is access to another 4000m2 site by the water, which is perfect for enjoying your dishes and drinks with front-row views of Copenhagen harbour. If you're visiting during the colder seasons, do not fret. Reffen recently added Werkstatt, an old machine hall, to the mix. Here you can enjoy drinks, delicious food and hygge all year round.  
The ambition is to create a melting pot with a food market, creative workshops and start-ups, cultural experiences and innovative projects that attract and inspires both locals and tourists.