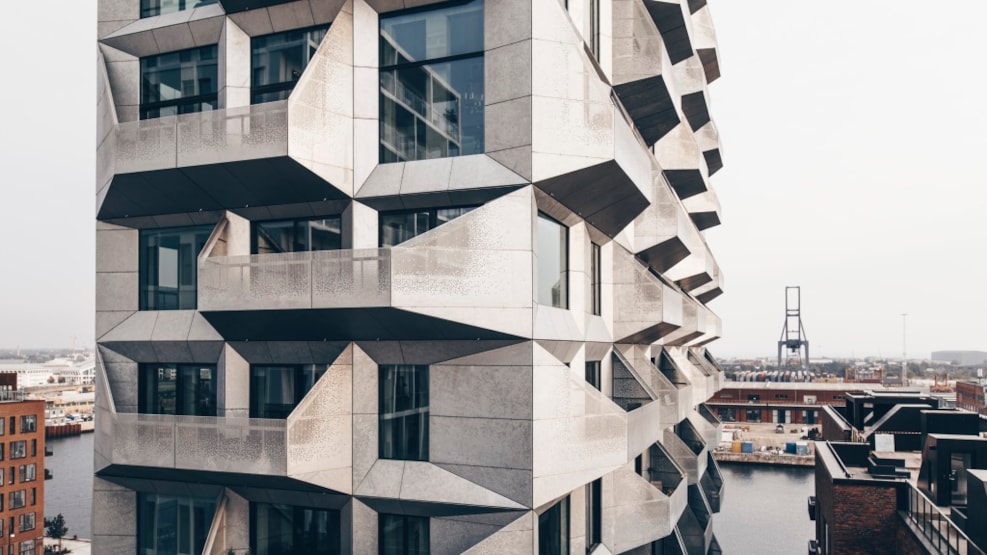 The Silo
From grain silo to dramatic steel tower
In the old industrial harbour area Nordhavn, or North Harbour, an upcoming neighbourhood is taking form. Modern architecture is growing out of former industry buildings, and one of these new attractions is The Silo.
The Silo is – as you might've worked out – a former grain silo located just by Nordhavn's waterfront. The old concrete container has been remodeled into a top-notch residential building with 17 stories of luxurious apartments and public areas, all designed by the Danish COBE architects. Apart from The Silo, COBE is behind several architectural masterpieces in Copenhagen such as THE LIBRARY in Nordvest and Israel's Square in the city center.
Home and destination in one
From outside, The Silo is an avantgarde sight, and its raw steel-covered surface would fit right in to Gotham City. Inside, the original concrete structures have been preserved as raw and untouched as possible, and the spatial variation within the original silo has left space for 38 unique apartments. Ranging in size from 106 m2 to 401 m2 multi-level homes, some of them have incredible floor heights of up to 7 meters.
On the 17th floor, you'll find Restaurant Silo, which is open for public and features a 360-degree view from the floor-to-ceiling windows. The ground floor will be open for public as well, and is currently featuring an exhibition about the developments in Nordhavn.