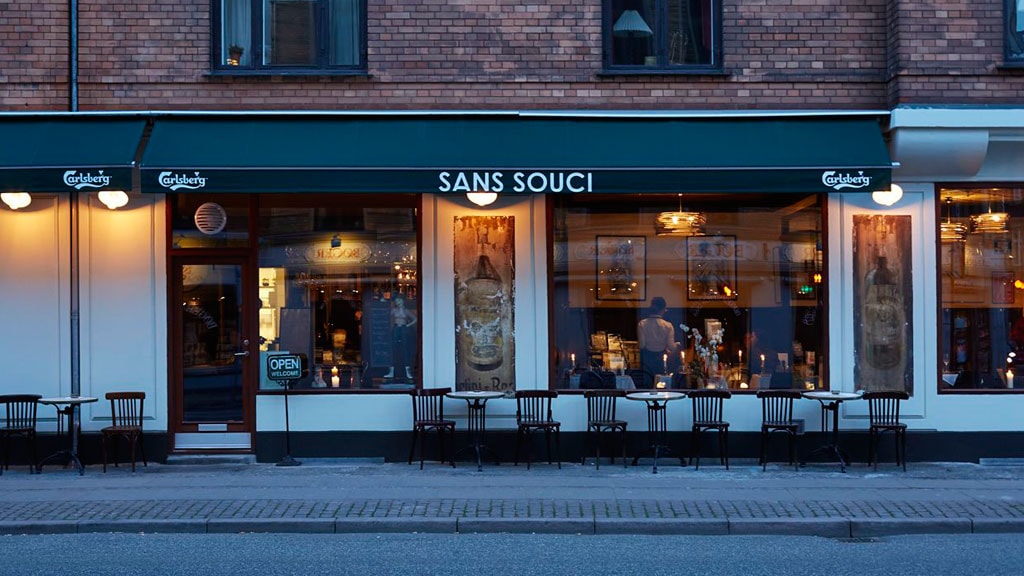 Sans Souci Restaurant and Wine bar
You find restaurant and wine bar Sans Souci in historic surroundings in the Frederiksberg area of Copenhagen.
The place is an old classic - a Frederiksberg institution - and can trace its existence back to 1902.
It has been renovated several times, but always with respect for its history. The wines are good and carefully selected in accordance with a quality and cost balance. The cuisine is Danish and French bistro.
Great taste, local produce and a cosy atmosphere. Those are the keywords to Restaurant og Vinstue Sans Souci. They serve lunch every day between noon and 16:00, which consists of traditional Danish smørrebrød (open sandwiches) and warm dishes. In the evening, you can choose between a range of classic Danish and French courses, all made with love.
Handpicked wines
The wine bar has a broad range of good wines, which are sold per bottle or per glass. There is always at least five wines, which you can buy per glass. The wine menu boasts wines from Bourgogne, Napa as well as Tuscany.
Most importantly, these are the wines, that the staff love and enjoy themselves, after work hours of course. The philosophy is that quality and price should go hand in hand, and there is always a new wine of the week.
Sans Souci is run by Jakob Blom & Kristian Willumsen, who took over the place in 2014, where they once more renovated and modernised the historic surroundings. Nothing was left out: the kitchen is new, the premises are cleaned up, the old stove has been located and installed, and the facade has been upgraded. But they have kept the atmosphere and the old pictures and portraits have again found their place at the walls of Sans Soucis.