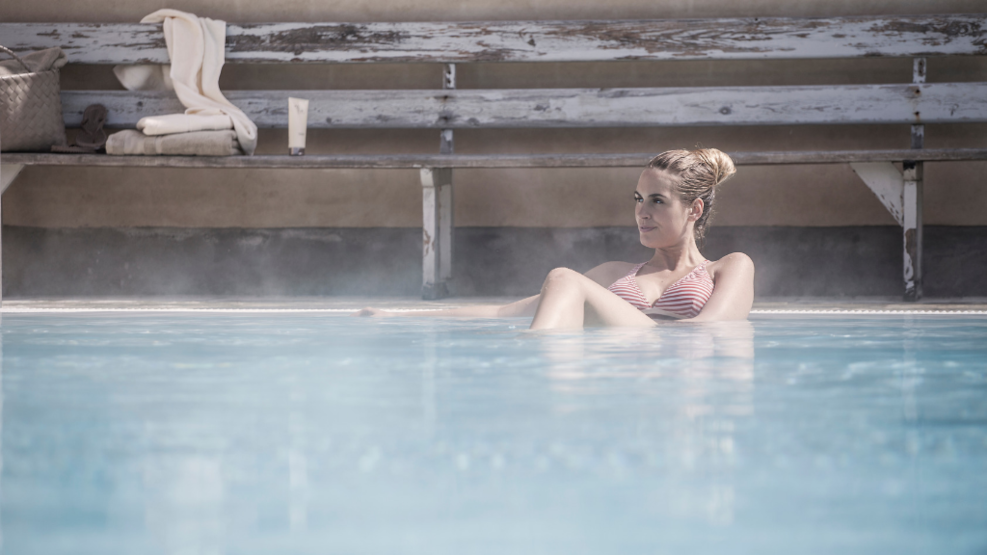 Kurbadet by Ilse Jacobsen
In the lovely town of Hornbæk 50 kilometres north of Copenhagen you will find the Kurbadet by Ilse Jacobsen, offering good opportunities for relaxation and self-indulgence.
The spa has two heated pools – a large outdoor pool and a smaller indoor one – for pleasure and training. The temperature in both pools is 34 degrees. The warmth in the pool results in the soothing of pain and the improvement of muscle functions. The pools are also for sheer pleasure, the warmth inducing peace of mind and wellness in your body.
A visit to the sauna is pure wellness for the body and mind. The body is heated thoroughly, and the muscles are softened, ideal after a hard training session, or combined with a visit to the hot pools.
In the Relax Area, you will find the unique heated Relax Chairs, and you are welcome to help yourself to refreshments while staying in the spa and wellness area.
International recognition
The American travel writer Lauren Resnick describes in the Huffington Post KURBADET by ILSE JACOBSEN as one of the world's best day spas. The international recognition comes in the wake of the fact that KURBADET again this year was nominated for SPA OF THE YEAR at the Danish Beauty Awards.
The Danish designer Ilse Jacobsen opened the doors to her new spa KURBADET by ILSE JACOBSEN in November 2013 in her hometown of Hornbæk. Since then, KURBADET has been nominated twice for the SPA OF THE YEAR at the Danish Beauty Awards in 2015 and 2017. KURBADET has previously been featured in the American fashion magazine Heaven Has Heels and was placed in No. 9 on the American Travel Magazine DEPARTURES list of the 2014 100 most exquisite and attractive cultural sites in the world,  and most recently honored by Huffington Post, who has reviewed the spa experience under the heading "The world's best Day Spas worth staying the night": "located 45 minutes from the centre of Copenhagen and positioned just 5 minute walk to the beach, is the perfect spa for ultimate relaxation, wellness and self–indulgence, offering a range of luxurious body and beauty treatments with a world-class Nordic style restaurant to round off the experience."(Lauren Resnick, Huffington Post)
BOOKING
Phone: 0045 70606020
Mail: kurbadet@ilsejacobsen.com