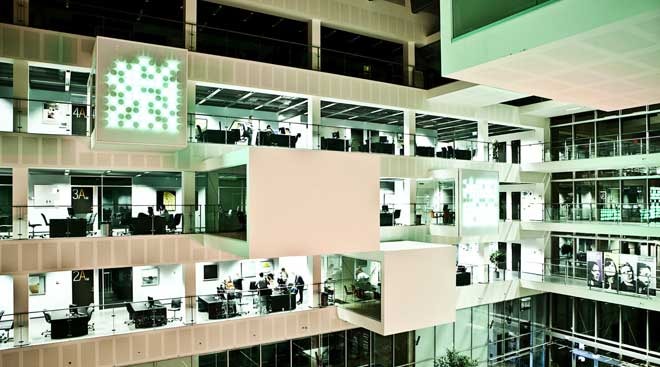 IT University
The IT-University in Amager is a modern piece of architecture designer by Henning Larsen.

Located in Ørestad midway between Copenhagen University and the Danish Broadcasting Corporation is the IT University's impressive building. The place opened in 2004, and is the result of a collaboration between Henning Larsen Architects and Carl Bro.

The building is approx. 19,000 m2 and is shaped like a giant H with a large atrium in the middle. From each of the five floors meeting rooms are sticking out in the air giving the feeling of transparent "drawers" that are pulled in different lengths.

The building's glass facade provides a great light, and the place is full of light, air and energy.

The place functions as a regular university, but is often used for various conferences and private meetings as well. The building is open every day, and everybody is free to step indoor and sneak a peek.