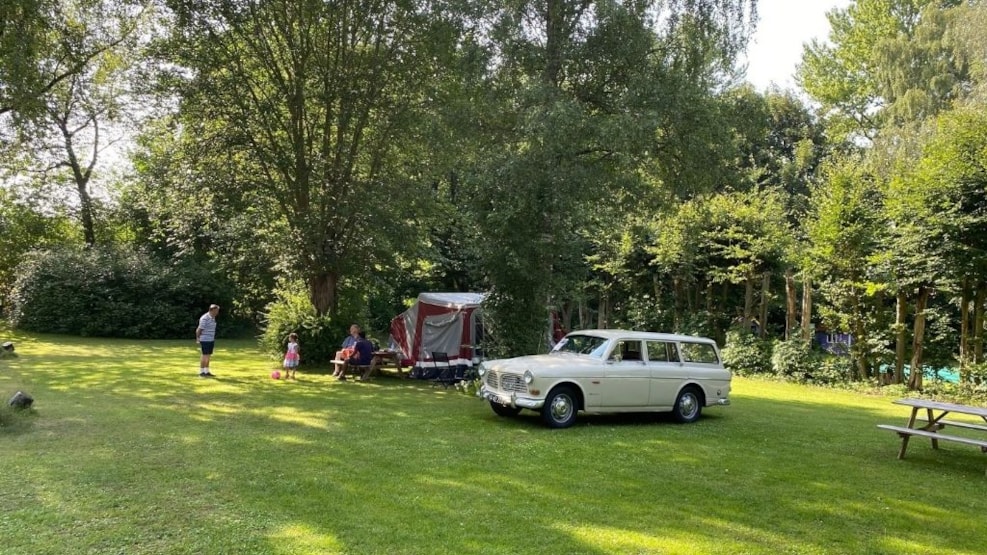 Fredensborg Camping
A campsite that respects nature. Fredensborg Camping is a peaceful and quiet family campsite where dogs are welcome.
The place is like an elderly lady that we are taking good care of, respecting the beautiful nature. It's situated in park-like and landscaped surroundings with many different kinds of trees and bushes, providing good shelter.
In May and June, you will be able to hear nightingales singing 24 hours a day (mostly).
FORGOT YOUR TENT?
If you want an even more special experience at Fredensborg Camping, you can sleep in a command tank from 1968 previously used by the Danish military. The tank is insulated so you can sleep tight in the summertime when the weather is bad.
You can charge your phone and laptop during the night so you will have enough power for the next day's adventures. If you are on holiday on two wheels, you can leave your baggage, lock the door and take a ride down to the Louisiana Museum of Modern Art.

GO SIGHTSEEING IN THE AREA
The campsite is situated in a beautiful landscape in North Sealand and you will find plenty of biking and hiking activities in the area. At the same time, it's also obvious to combine your camping holidays at Fredensborg Camping with visits to the many attractions nearby such as Fredensborg Palace, Louisiana Museum, Bakken etc.
And should you want to feel the big city vibe, Copenhagen is only a drive away. If you want to combine the rural and countryside atmosphere with city life and sightseeing, Fredensborg Camping is a good suggestion for a campsite combining both.
OPENING HOURS
Fredensborg Camping is open all year. See Fredensborg Camping for details of opening hours, entry prices and attractions in the area.