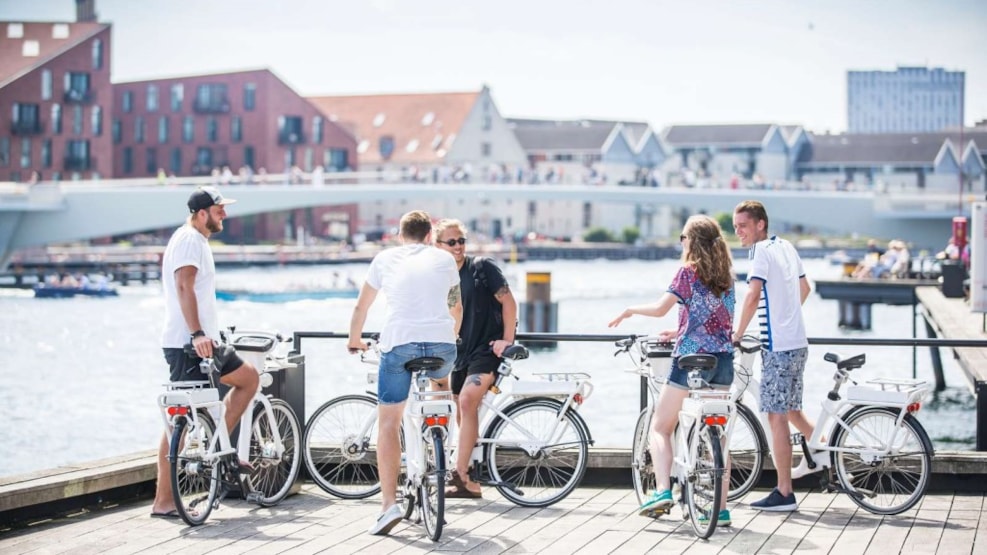 Bycyklen
The city's chunky e-bikes are available all over the city 24/7.
The obvious way to get around Copenhagen is, of course, by bike and that is when the public bike share, Bycyklen, comes in handy. These bikes are stationed all over the city and are easy to use.
The city bikes are intelligent electric bikes that are available 24/7, 365 days a year and can be rented straight from the street.
How to use a Bycykel
To use the bikes, just create a user account in the Bycyklen app. It only requires your name, email address, telephone number and payment card information. You can only rent one bike at a time.
Find a Bycyklen bike near you in the app, choose an electric bike, take it out of the Bycyklen station and start riding. You can ride wherever you want, as long as you drop off the bike at a Bycyklen station or in a drop zone after use. Bycyklen bikes have a lock so you can park the bike during your trip. Lock the bike by selecting 'Lock bike' in the app and following the instructions. Unlock the bike with the app.
To finish your trip, firmly push the Bycyklen to a Bycyklen Station. Wait for the click and the "Trip ended" message in the app. Select "End trip" in the app and follow the instructions if the Bycyklen Station is full or if you end your tour in a drop zone.