Lake Esrum: Life in the backyard of the royal family
Photo:
Thomas Høyrup Christensen
Lake Esrum north of Copenhagen is steeped in history: It shares its address with the spring and autumn residence of the queen, has a stately past as the "laundry lake" of the Danish royal family and part of a "pleasure park" almost exclusively reserved for the royals in the 18th century.
On foggy days, you could easily mistake Lake Esrum for an open sea, as you glance across this massive body of water with the opposite shore only barely in sight. In clear weather, the dense forests of Northern Zealand stretch on for miles on all sides, with very few houses or other signs of civilization dotting the deep green landscapes.
Unspoiled nature of this scale is quite a rarity in a pocket-sized country like Denmark, but it's reachable in little more than an hour north of Copenhagen.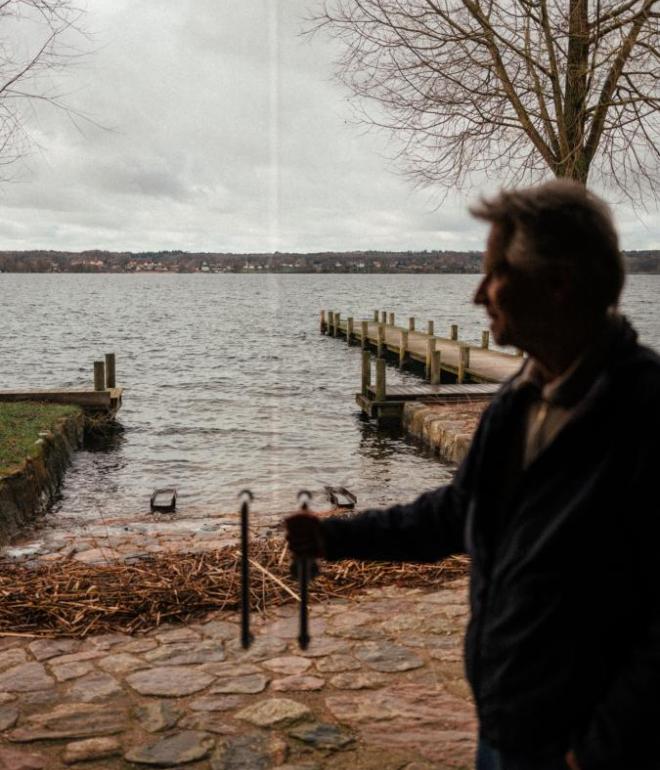 Photo: Thomas Høyrup Christensen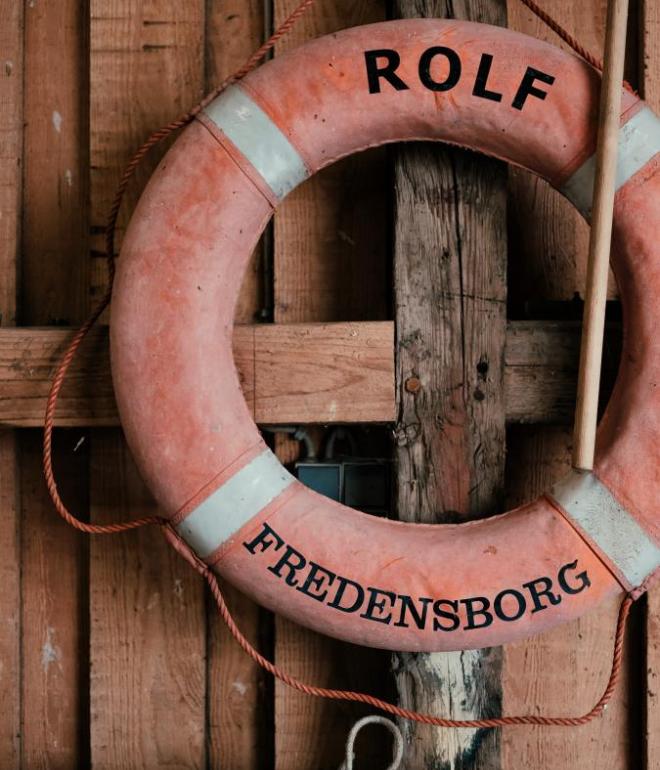 Photo: Thomas Høyrup Christensen
Lake Esrum is perhaps best-known for its distinguished neighbor, Fredensborg Palace, an imposing Baroque castle and spring and autumn residence of the Danish monarch, which sits atop a hill overlooking the lake. The lake's history is closely intertwined with the royal family, having served as their "laundry lake" back in the 1700's, due to the exceptional cleanliness of the water (something which swimmers and bathers can still enjoy to this day).
Here, we share three tips on what to see and do at Lake Esrum:
#1: Go sailing on 100-year-old boats – and meet the skippers who sail them
Lake Esrum is big enough to have an ongoing ferry operation, manned by volunteer sailors with extensive maritime experience and tens of thousands of nautical miles between them. The skippers, many of them with weather-beaten faces and plenty of seafaring anecdotes, have been a fixture of Lake Esrum since at least 1748, when the ferries mostly carried cargo back and forth across the lake. In 2010, the ferry routes were reestablished in a bid to preserve the culture and legacy of the lake, as well as the two antique and well-preserved ferry boats, named Viking and Rolf, from 1917 and 1909 respectively.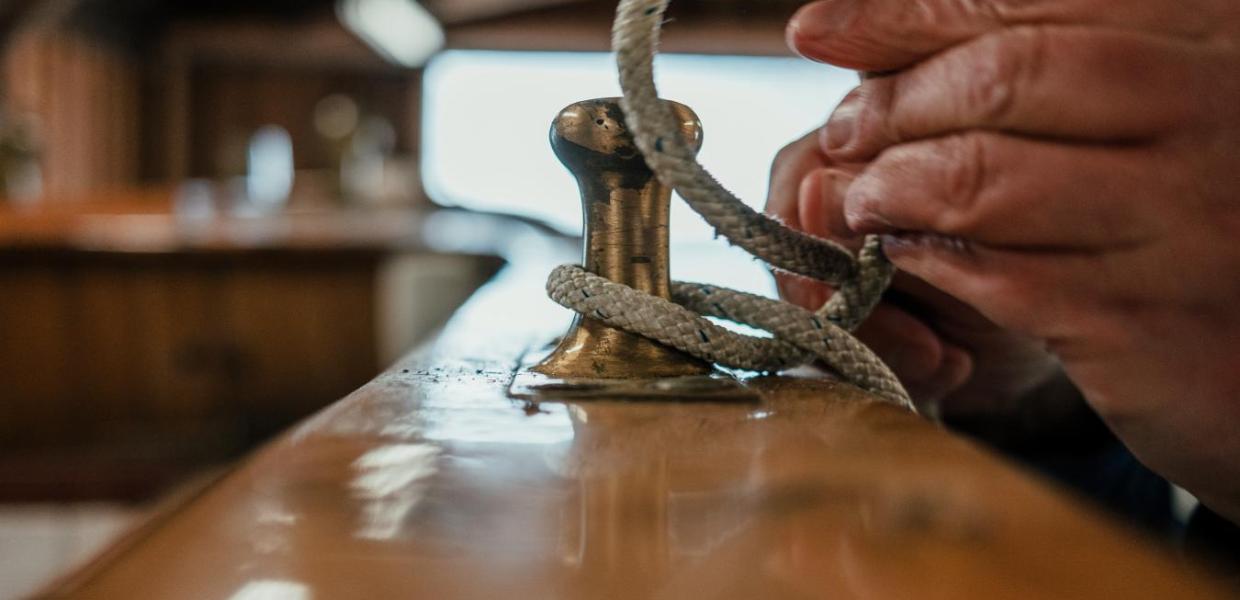 Photo:Thomas Høyrup Christensen
The ferries are open for all and do bespoke tours across the lake; although you must book in advance.
#2: Go on your own by canoe, kayak or board
Few things evoke a greater feeling of freedom and calm than being out on open waters at your own pace. In an old boathouse by the lakeshore, Rune Dahl Mortensen owns and operates Sne & Vand, a canoe, kayak and SUP board rental for those feeling adventurous enough to brave the lake's waters on their own. While canoeing on the lake eight years ago, he fell in love with the boathouse and opened his rental place shortly after. He still gets excited about rowing northwards and seeing nothing but forests on all sides.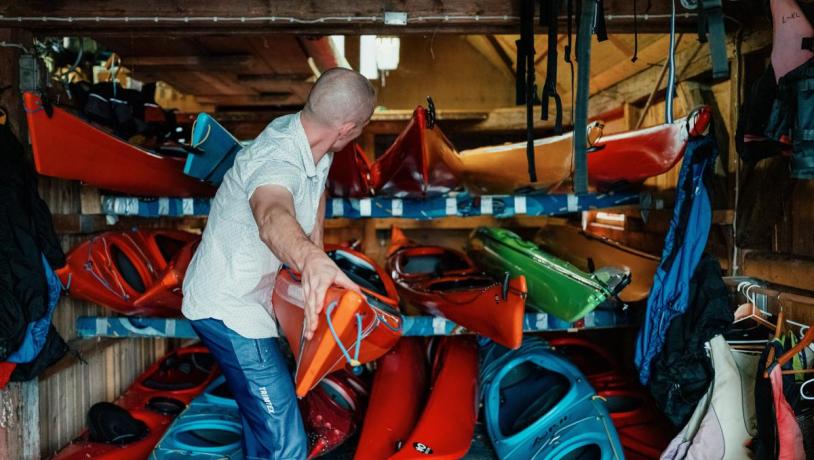 Photo:Thomas Høyrup Christensen
The rental is open from May 1 – September 30. You can go on your own or with an instructor, and there are ample possibilities to make stops along the way, with both shelters and benches scattered along the lake shore.
#3: Kick back and enjoy great food in a historic royal laundry room turned restaurant
If you're keener on simply enjoying the view of the lake, Skipperhuset (literally "The Skipper's House") is a newly opened Danish restaurant perfectly situated right by Lake Esrum. It's a contemporary Danish kitchen with a "less is more" approach to food, housed in the same historic building complex as the ferry operations. The main room of the restaurant used to be the laundry room where the royal family's clothes and linens were dried.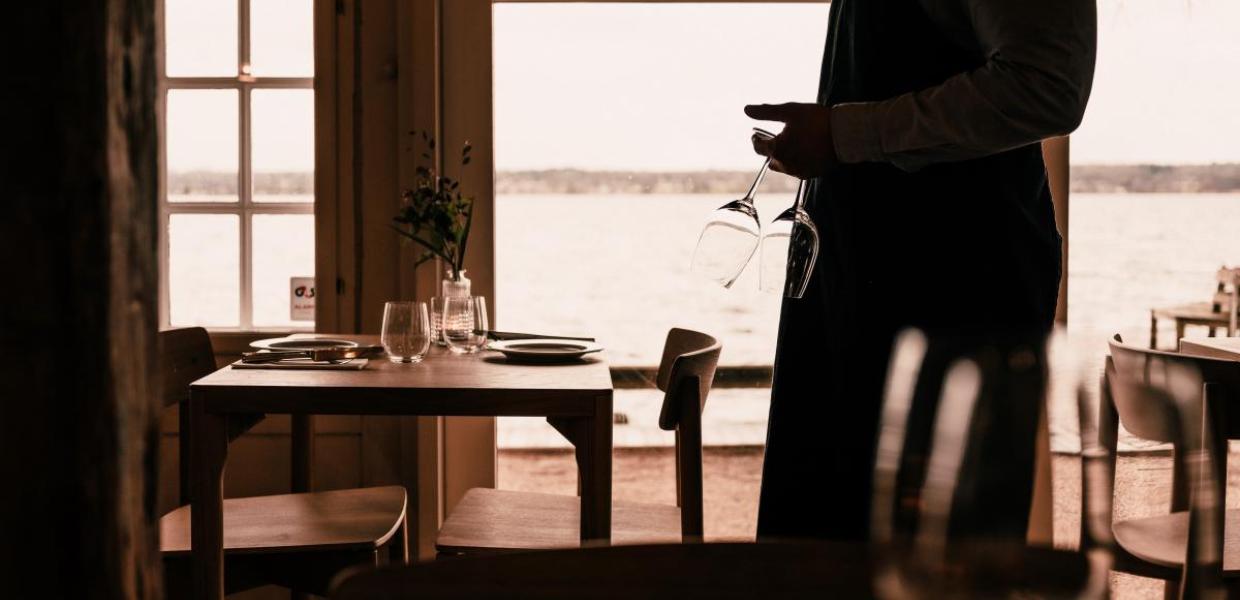 Photo:Thomas Høyrup Christensen
Perfect for a spring or summer's day excursion from Copenhagen, Lake Esrum's southern bank is approximately one hour away from the city center by public transport.